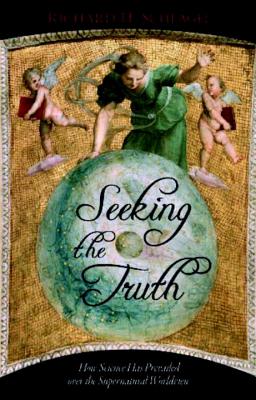 Seeking the Truth: How Science Has Prevailed Over the Supernatural Worldview (Paperback)
How Science Has Prevailed Over the Supernatural Worldview
Humanity Books, 9781591027744, 518pp.
Publication Date: April 30, 2010
* Individual store prices may vary.
or
Not Currently Available for Direct Purchase
Description
In this sweeping intellectual history, philosopher Richard H. Schlagel compares the conceptual worldviews of science and religion, their distinct historical origins, their radically different experiential foundations, and their contrasting methods of justification. With great clarity and an impressive command of the historical facts, he depicts Western civilization as a composite of two diverse traditions—the empirical-rationalistic perspective of the ancient Greek philosophers and the mystical-revelatory approach of Judeo-Christian religion. Today, science, the inheritor of the Greek empirical-rationalistic approach, is clearly in the ascendancy.

Schlagel shows how and why science has achieved its remarkable success, while religion, still burdened by archaic, static concepts anchored in a vanished past, has experienced more and more cognitive and emotional difficulties accommodating scientific discoveries.

Looking to the future, Schlagel argues that scientific inquiry is clearly superior to faith in ancient religious doctrines to cope with the challenges of climate change, energy sources, environmental protection, population increases, and the global economy. He concludes that the health of democratic societies will depend, in large part, on an educated citizenry that appreciates the importance of science and recognizes the retrograde tendencies of the fundamentalist mindset both in the United States and abroad.
About the Author
Richard H. Schlagel, Ph.D. (Washington, DC), is Elton Professor of Philosophy at George Washington University and the author of From Myth to the Modern Mind: A Study of the Origins and Growth of Scientific Thought.
Advertisement