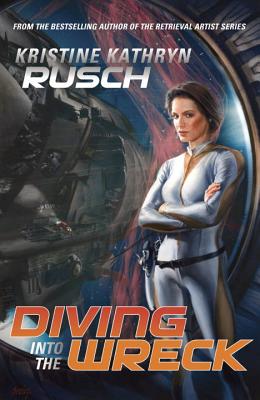 Diving Into the Wreck (Paperback)
Pyr, 9781591027867, 269pp.
Publication Date: November 24, 2009
* Individual store prices may vary.
Description
Boss loves to dive historical ships, derelict spacecraft found adrift in the blackness between the stars. Sometimes she salvages for money, but mostly she's an active historian. She wants to know about the past to experience it firsthand. Once she's dived the ship, she ll either leave it for others to find or file a claim so that she can bring tourists to dive it as well. It's a good life for a tough loner, with more interest in artifacts than people.
Then one day, Boss finds the claim of a lifetime: an enormous spacecraft, incredibly old, and apparently Earth-made. It's impossible for something so old, built in the days before Faster Than Light travel, to have journeyed this far from Earth. It shouldn t be here. It can t be here. And yet, it is. Boss's curiosity is up, and she's determined to investigate. She hires a group of divers to explore the wreck with her, the best team she can assemble. But some secrets are best kept hidden, and the past won t give up its treasures without exacting a price in blood.
About the Author
Kristine Kathryn Rusch is an award-winning mystery, romance, science fiction, and fantasy writer. She has written many novels under various names, including Kristine Grayson for romance, and Kris Nelscott for mystery. Her novels have made the bestseller lists even in London and have been published in fourteen countries and thirteen different languages. Her awards range from the Ellery Queen Readers Choice Award to the John W. Campbell Award. She is the only person in the history of the science fiction field to have won a Hugo award for editing and a Hugo award for fiction. Her short work has been reprinted in sixteen Year s Best collections. She is the former editor of prestigious The Magazine of Fantasy and Science Fiction. Before that, she and Dean Wesley Smith, started and ran Pulphouse Publishing, a science fiction and mystery press in Eugene. She lives and works on the Oregon Coast. Visit her online at http: //kriswrites.com"
or
Not Currently Available for Direct Purchase