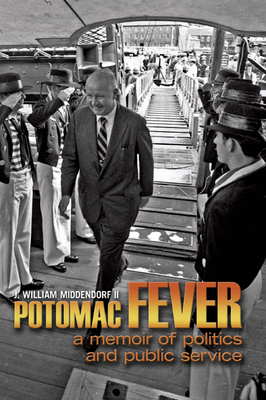 Potomac Fever
A Memoir of Politics and Public Service
Hardcover

* Individual store prices may vary.
Description
A dozen years out of Harvard, investment banker Bill Middendorf's salary hit $250,000 a year; another dozen years, with his own firm and a seat on the New York Stock Exchange, his income was well into seven figures. But he was restive. I had learned how to make money, he writes. I wanted to learn how to make a difference. Thus, he became actively involved in politics, first at the local level and then with the presidential campaign of Senator Barry Goldwater (1964) and as treasurer of the Republican National Committee (1964-1968). There followed a series of challenging public service appointments: ambassador to The Netherlands, under secretary and secretary of the Navy, ambassador to the Organization of American States and ambassador to the European Community.
Middendorf is a story-teller, and has many tales to share --- from his World War II Navy service, to his first job wearing a string of pearls in a bank vault, on to a failed effort to bring a U.S.-style constitution to post-Soviet Russia. Tales of villains and heroes, tales of narrow legislative victories on vital programs, tales of behind-the-scenes efforts to forestall war in the Falklands and to counter growing Communist control of the island of Grenada.
US Naval Institute Press, 9781591145370, 213pp.
Publication Date: July 15, 2011
or
Not Currently Available for Direct Purchase