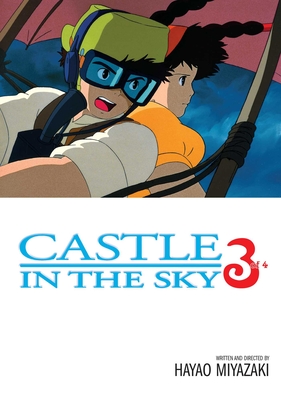 Castle in the Sky Film Comic, Vol. 3 (Castle in the Sky Film Comics #3)
Paperback

* Individual store prices may vary.
Other Editions of This Title:
Paperback (8/13/2003)
Description
From the creator of the Academy Award-winning Spirited Away, a legend of the days of the first flying machines, where fantastic adventure takes to the air in search of the Castle In The Sky! Pirates greedy for treasure and secret agents hungry for power are both chasing Sheeta, a young girl who wears a mysterious blue stone around her neck. The stone's power makes Sheeta defy gravity?and float down into the life of Pazu, a tough young orphan boy inventor. What ancient secrets link Sheeta's stone to the incredible dangers and mysteries of the Castle In The Sky? Unlike other graphic novels, this series features full-color illustrated stills from the movie printed on quality paper and is published in the original right-to-left format. Together, these four volumes give readers the complete story of the animated feature, and are the perfect gift for fans of the movie and Japanese graphic novels.

Pazu and Sheeta have joined Dola's crew! Helping out in the crow's nest, the engine room, and even the kitchen of the pirate airship Tiger Moth, Sheeta calls upon her childhood memories to plot a course towards Laputa, the legendary floating Castle In The Sky. But they're in a dangerous race with the giant armored zeppelin Goliath, where Muska still has Sheeta's pendant--working as a navigational beacon pointing straight for the Castle! When the two ships cross paths, the evening clouds light up with battle--and Pazu and Sheeta, scouting in a glider, are blown free. The prize everyone is searching for is now very near...but will both sides destroy each other before they can set foot on Laputa?
VIZ Media LLC, 9781591161721, 164pp.
Publication Date: July 16, 2003
About the Author
Hayao Miyazaki is one of Japan's most beloved animation directors. In 2005 he was awarded the Venice International Film Festival's Golden Lion Award for Lifetime Achievement, and his Studio Ghibli received the festival's Osella Award for overall achievement in 2004. Miyazaki's films include Spirited Away, winner of the 2002 Academy Award® for Best Animated Feature Film, as well as Castle in the Sky, My Neighbor Totoro, Kiki's Delivery Service, Princess Mononoke, Howl's Moving Castle, and Ponyo, all of which have received great acclaim in the U.S. Miyazaki's other achievements include the highly regarded manga series Nausicaä of the Valley of the Wind and Starting Point: 1979-1996, a collection of essays, interviews, and memoirs that chronicle his early career and the development of his theories of animation. Both are published in English by VIZ Media.