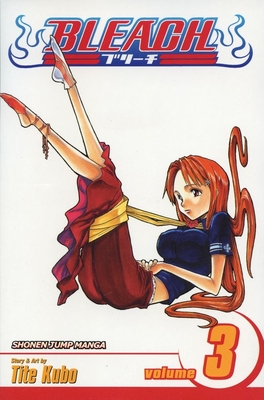 Bleach, Vol. 3 (Paperback)
VIZ Media LLC, 9781591164432, 200pp.
Publication Date: October 12, 2004
* Individual store prices may vary.
Description
Hot-tempered 15-year-old Ichigo Kurosaki, the hero of the popular fantasy-adventure Bleach, has the unsettling ability to see spirits who are unable to rest in peace. His sixth sense leads him to Rukia, a Soul Reaper who destroys Hollows (soul-devouring monsters) and ensures the deceased find repose with the Soul Society. When she's injured in battle, Rukia transfers her sword and much of her power to Ichigo, whose spiritual energy makes him a formidable substitute Soul Reaper. But the orange-haired teenager isn't sure he wants the job: too many risks and moral dilemmas.
About the Author
Bleach is author Tite Kubo's second title. Kubo made his debut with ZombiePowder, a four-volume series for Weekly Shonen Jump. To date, Bleach has been translated into numerous languages and has also inspired an animated TV series that began airing in Japan in 2004. Beginning its serialization in 2001, Bleach is still a mainstay in the pages of Weekly Shonen Jump. In 2005, Bleach was awarded the prestigious Shogakukan Manga Award in the shonen (boys) category.