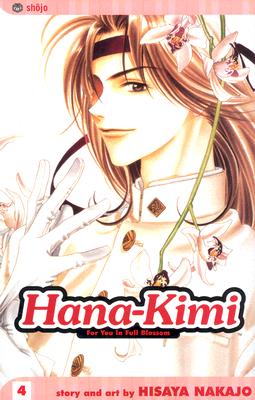 Hana-Kimi, Vol. 4, Volume 4
Paperback

* Individual store prices may vary.
Description
What happens when the hottest guy in school is a girl? ? The Prettiest Boy In School...Isn't A Boy Japanese-American track-and-field star Mizuki has transferred to a high school in Japan...but not just any school To be close to her idol, high jumper Izumi Sano, she's going to an all-guys' high school...and disguising herself as a boy But as fate would have it, they're more than classmates...they're roommates Now, Mizuki must keep her secret in the classroom, the locker room, and her own bedroom. And her classmates--and the school nurse--must cope with a new transfer student who may make them question their own orientation... Clothes Make The Man All-male Osaka High School is holding its annual war of the dorms, and for the students, there is no escape Unfortunately, even though she'd be happy to just compete in the 500-meter relay, Mizuki is forced to enter the Cross-Dressing Pageant...and pretend to be a boy pretending to be a girl Worse still, a rival dorm targets Mizuki as a threat to their athletic supremacy Can dorm chief Minami Nanba make winners out of this class while dealing with his own secret traumas? Plus a bonus story, The Thirsty Moon
Viz Media, 9781591164586, 200pp.
Publication Date: February 1, 2005
About the Author
Hisaya Nakajo's manga series Hanazakari no Kimitachi he (For You in Full Blossom, casually known as Hana-Kimi) has been a hit since it first appeared in 1997 in the shojo manga magazine Hana to Yume (Flowers and Dreams). In Japan, a Hana-Kimi art book and several drama CDs have been released. Her other manga series include Missing Piece (two volumes) and Yumemiru Happa (The Dreaming Leaf, one volume).