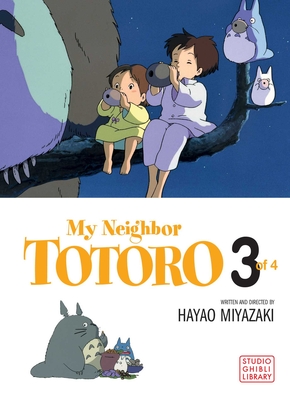 My Neighbor Totoro Film Comic, Vol. 3 (My Neighbor Totoro Film Comics #3) (Paperback)
VIZ Media LLC, 9781591166993, 152pp.
Publication Date: January 11, 2005
Other Editions of This Title:
Paperback (11/10/2004)
Paperback (12/21/2004)
Paperback (2/15/2005)
* Individual store prices may vary.
Description
Eleven-year-old Satsuki and her sassy little sister Mei are overjoyed about moving into a historic country house with their dad--but the girls don't realize what a delightful adventure awaits them there. While exploring their sprawling home and the beautiful rural area that surrounds it, Satsuki and Mei meet Granny, a sweet old woman, and her timid grandson Kanta. They also experience firsthand the magic of the Soot Sprites, mysterious creatures that live in the walls, and discover a huge camphor tree that just might be enchanted...

Mei and Satsuki continue to adjust to their new country home, as they begin to make friends with shy neighbor boy Kanta. But life without their mother is hard, especially on the nights that Dad can't come home from work until late!

It's a good thing the girls have the kindly Granny to watch over them. They soon find out that there is another kindly spirit watching over them--Totoro! Totoro shows Mei and Satsuki a strange and mysterious Cat Bus, helps them with their fledgling garden, and then takes them on a wondrous forest adventure!
About the Author
Hayao Miyazaki is one of Japan's most beloved animation directors. In 2005 he was awarded the Venice International Film Festival's Golden Lion Award for Lifetime Achievement, and his Studio Ghibli received the festival's Osella Award for overall achievement in 2004. Miyazaki's films include Spirited Away, winner of the 2002 Academy Award® for Best Animated Feature Film, as well as Castle in the Sky, My Neighbor Totoro, Kiki's Delivery Service, Princess Mononoke, Howl's Moving Castle, and Ponyo, all of which have received great acclaim in the U.S. Miyazaki's other achievements include the highly regarded manga series Nausicaä of the Valley of the Wind and Starting Point: 1979-1996, a collection of essays, interviews, and memoirs that chronicle his early career and the development of his theories of animation. Both are published in English by VIZ Media.