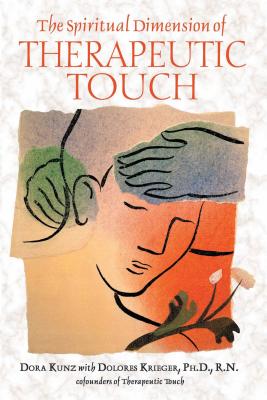 The Spiritual Dimension of Therapeutic Touch (Paperback)
Bear & Company, 9781591430254, 272pp.
Publication Date: April 9, 2004
* Individual store prices may vary.
Description
Explores the extraordinary technique that put authentic healing into the hands of health care providers

• Examines the relationship between expanded levels of consciousness and the healing process

• Contains healing exercises for treating common ailments such as stomachaches and back pain, and practices for managing chronic stress

• Based on transcribed audiotapes of lectures by medical intuitive Dora Kunz (1904-1999), with commentary by Dolores Krieger

Since 1972 Therapeutic Touch has been taught in hospitals and at universities to tens of thousands of health care professionals. The Spiritual Dimension of Therapeutic Touch provides an intimate glimpse into the life work of Dora Kunz (1904-1999), medical intuitive and fifth-generation clairvoyant, who used her gifts to reach out to others in her capacity as healer and teacher.

During their years of research and healing practice together, Dolores Krieger and her mentor, Dora Kunz, found illness to be caused by specific subtle energy imbalances. The Spiritual Dimension of Therapeutic Touch teaches how to rebalance the body's energy through touch, visualization, and a spiritual acceptance of life's inevitable cycle. These exercises can be used both to heal physical pain and to achieve mental and spiritual peace. The authors also examine the important interconnected relationship between healer and patient. The book includes never-before-transcribed lectures by Dora Kunz, with commentary from Dolores Krieger, exploring expanded levels of consciousness as they relate to the healing process.
About the Author
Dora Kunz, former president of the Theosophical Society of America, was the author of The Personal Aura and Spiritual Aspects of the Healing Arts and coauthor of The Chakras and the Human Energy Fields.

Dolores Krieger, Ph.D., R.N., is the author of The Therapeutic Touch, Accepting Your Power to Heal, and Therapeutic Touch Inner Workbook and is a professor emerita of nursing science at New York University.
Praise For The Spiritual Dimension of Therapeutic Touch…
"Whether you are a healer, or a healee, The Spiritual Dimension of Therapeutic Touch offers insights into the flow of healing energies and how one can connect to this source in order to bring health and peace to oneself and the world."
— Spirit of Change, Nov-Dec, 2004

". . . a powerful tool for rebalancing the body's energy through touch, visualization, and spiritual acceptance of life's inevitable cycle. The book examines the dynamic interrelationship between healer and patient and the vital role of expanded levels of consciousness as they relate to the healing process."
— Making Scents, Winter-Spring, 2005

". . . practitioners gain the sensitivity and spiritual connection needed to effectively promote physical healing as well as spiritual peace. . . . A special book for those adventurous enough to try energy-oriented healing."
— Irene Alleger, Townsend Letter for Doctors & Patients, Jan, 2005

". . . an invaluable contribution to the pool of thought regarding esoteric healing."
— The Beacon, May/June 2005

"[Kunz and Krieger's] unique collaboration has put genuine healing into health care. . . . at once engaging and informative in the areas of the nature of consciousness and healing."
— New Dawn Magazine, Issue No. 115, Jul/Aug 2009