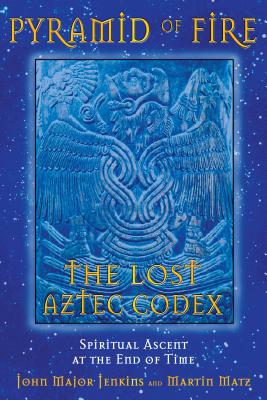 Pyramid of Fire (Paperback)
The Lost Aztec Codex: Spiritual Ascent at the End of Time
Bear & Company, 9781591430322, 192pp.
Publication Date: November 3, 2004
* Individual store prices may vary.
Description
The first translation of a previously unknown Aztec codex and its initiatory teachings for 2012

• Discloses the potential for great spiritual awakening offered at the end of the Aztec calendar cycle

• Presents the only existing English-language transcription of the Aztec codex, with line-by-line commentary

• Contains the epic poetry and metaphysical insights of Beat poet Marty Matz (1934–2001

In 1961 an unknown Aztec codex was revealed to Beat poet and explorer Marty Matz by a Mazatec shaman in the mountains of Oaxaca, Mexico. Originally intended for dramatic performance, this codex presents a profound metaphysical teaching describing how the end of time will bring about a visionary ascent. At the behest of his Mazatec teacher, Matz transcribed this pictorial codex into a literary form that would preserve its initiatory teachings and reveal its secret meanings to a wider audience.Pyramid of Fire is an epic poem that provides a vehicle to transport the initiate into the higher realms of consciousness. It represents a barely surviving thread of teachings that have been passed down in secret since the time of the Spanish Conquest. Revealed are the techniques by which man is transported to the stellar realm after death via the solar energy within what the ancients called the "serpent of consciousness." Line-by-line commentary by Matz and John Major Jenkins provides insights into the perennial philosophy contained in the codex and its relevance to our times.
About the Author
John Major Jenkins (1964-2017) was a leading independent researcher on ancient Mesoamerican cosmology. He authored five books on the Maya, including Maya Cosmogenesis 2012, Galactic Alignment, and Pyramid of Fire. He gave presentations at the prestigious Institute of Maya Studies in Miami, and in 1998, he was invited by the Indigenous Council of the Americas to speak at their conference in Merida, Mexico. He was featured on two episodes of the "Places of Mystery" TV show on Discovery Channel and appeared in the film Manifesting the Mind and the documentary 2012: Science or Superstition.

Martin Matz (1934-2001) was a poet/philosopher involved in the 1950s Beat movement. His published works include Pyramid of Fire, Time Waits and Pipe Dreams.
Praise For Pyramid of Fire: The Lost Aztec Codex: Spiritual Ascent at the End of Time…
"Ancient Mexico lives again in this amazing retrieval of an Aztec pictorial and oral tradition. Marty and John lead the reader to places undiscovered by archaeologists and ethnologists."
— Bruce Scofield, author of Day-Signs: Native American Astrology From Ancient Mexico

"The Pyramid of Fire is part of the highest esoteric tradition of mankind. . . . a lucid and insightful commentary born of a sound grasp of the Perennial Philosophy."
— Estefan Lambert, author of The Solar Body and The Cleaving of the Moon

"Marty Matz, akashic wizard and shamanic warrior, gives us a masterpiece in song and saga. . . . A revelation for all time!"
— Ira Cohen, poet and author of Poems from the Akashic Record

"Marty Matz is the lost Beat genius and Pyramid of Fire is everything from his spiritual autobiography to a classic world text of enlightenment, letting the wisdom of the Aztecs unfold alongside Marty's epic and torturous quest to find meaning in his own life. The juxtaposition of the wisdom of the Aztecs and Marty's stories and memoirs and the commentary of scholar John Major Jenkins gives us a map of the inner resources by which we may all find our way to the same light that guided Marty through such a splendidly fulfilled life."
— Gerald Nicosia, poet and author of Memory Babe: A Critical Biography of Jack Kerouac

"Like a shaman throwing light into the deepest recesses of the night, John Major Jenkins and Marty Matz poetically illuminate the secret knowledge contained in the Pyramid of Fire. Jenkins and Matz are elucidators and keepers of the rarest flame."
— Laki Vazakas, director of the video documentaries Huncke and Louis and Burma: Traces of the Buddha

". . . provides a stunning commentary, drawing astute comparisons with the perrenial philosophies of other cultures and times. . . . This small, but important volume will satisfy on many levels."
— Jennifer Hoskins, New Dawn, Nov-Dec 2005