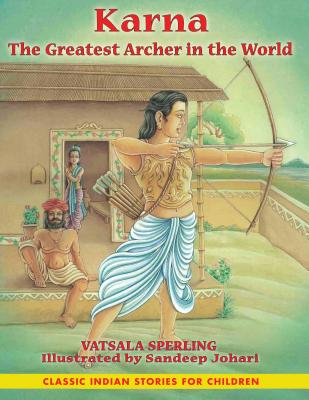 Karna
The Greatest Archer in the World
Hardcover

* Individual store prices may vary.
Description
Features Karna, a brave and ambitious character from the epic Mahabharata, as famous for his generosity as for his skills with bow and arrow

• Introduces children to one of the most colorful characters of Hindu mythology

• Illustrated throughout with glowing full-color paintings in traditional Indian style

• Speaks to the questions that arise for adoptive children and their parents

When Princess Kunti is twelve years old she tries reciting a secret mantra for inviting the gods into her life. She gets more than she bargained for when the Sun, himself, swoops down out of the sky in a golden chariot and presents her with a baby. "Take him back," she cries. "I'm not ready to be a mother!" But it's too late; the Sun says the baby is her responsibility now. However, he points out the child's golden earrings and the golden shield upon his chest and tells Kunti that as long he wears them, the child will be protected. Kunti tearfully puts the baby in a basket and sets him afloat on the river, where Adhiratha and Radha, a poor and childless couple, find him and take him in.

Karna: The Greatest Archer in the World introduces the reader to the heroic but humanly flawed character of Karna, who grapples with issues of right and wrong, truth and lies, loyalty and abandonment. It tells how Radha helps her adoptive son, Karna, solve the mystery of his birth; how she and her husband give Karna the courage to follow his heart in the study of archery; how Karna faces his birth mother in the final days of his brief but brilliant life; and how his loyalty to a friend and his unparalleled generosity and sense of honor ultimately cause him to give his own life so that good may triumph over evil.
Praise For Karna: The Greatest Archer in the World…
"A welcome introduction to other cultures for young readers, illustrated in a style reminiscent of traditional Indian artwork. . . . Highly recommended."
— The Midwest Book Review, Nov 2007

"The book is an excellent read. It addresses the problem faced by the adopted children who don't know their birth origin and are often discriminated."
— Sunitha Jayan, Feminist Review

"A skillful retelling of an old story!"
— Skipping Stones

" . . . such stories brought out from ancient Epic Mahabaharata will surely be helpful to all students who can learn the moral values of human life."
— Shankerprasad S. Bhatt, author Prayers of All Religions of the World (three volumes)

" . . . raises many issues of right, wrong, and loyalty and abandonment in a gentle folk story packed with insights perfect for discussion."
— Children's Bookwatch, The Midwest Book Review, Jan 08

"Full of interesting characters and situations, the story is preceded by a useful cast of characters to help readers keep track of Karna's adventures. Colorful, traditional illustrations add interest to this long and detailed epic."
— Venture Into Cultures, publication of the American Library Association, Nov 2008

"This action-packed story introduces children to the heroic but flawed Karna. The dramatic retelling of a traditional story from India's ancient epic, Mahabharata, will capture the imaginations of children everywhere."
— Awareness Magazine, Vol. 15, No. 4, Jul/Aug 2008

"It introduces children to one of the most colorful characters of Hindu mythology, Karna, and his inner struggles. Karna, abandoned by his mother, encounters many issues, including knowing nothing about his adoptive or biological parents."
— Parsa Choudhury, MultiCultural Review, Vol. 17, No. 1, Spring 08
Bear Cub Books, 9781591430735, 32pp.
Publication Date: October 9, 2007
About the Author
Vatsala Sperling, Ph.D., fluent in a number of Indian languages and Sanskrit, learned these traditional stories at her mother's feet and enjoys introducing them to children of the Western world. Before marrying and moving to the United States, she was the chief of Clinical Microbiological Services at the largest children's hospital in India. She is the author of How Ganesh Got His Elephant Head, Ram the Demon Slayer, and Karna: The Greatest Archer in the World. She lives in Vermont with her husband and son.

Sandeep Johari was raised by his uncle Harish Johari, who taught him classical Indian painting. He is the creative director in a graphic design studio in New Delhi, India.
or
Not Currently Available for Direct Purchase