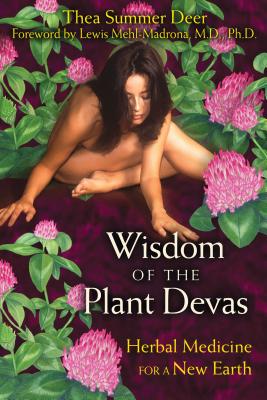 Wisdom of the Plant Devas
Herbal Medicine for a New Earth
Paperback

* Individual store prices may vary.
Description
Consulting plant spirits for spiritual and psychological guidance and healing

• Reveals how, by communing with the deva or spirit of a plant, we can call forth its medicine without even needing to ingest it

• Includes wisdom from the devas of 13 herbs, such as rosemary, datura, and uva ursi

• Empowers readers with the tools to develop their own inner resources for healing in relationship with the plant devas around them

Each plant has a story to share with us, a healing story to guide us in trying times, a spirit medicine for the New Earth that is presently unfolding. Herbs are some of the most powerful allies we have for these transitional times--we just need to learn how to listen as they share their knowledge with us.

In Wisdom of the Plant Devas, Thea Summer Deer reveals a new dimension of herbal medicine, one where the plant's spirit is consulted for guidance and healing beyond the physical. Examining the botany, modern and traditional uses, history, and folklore of 13 special herbs, such as rosemary, uva ursi, and datura, she shares divinations and messages from their devas, or plant spirits, explaining how these stories carry the herbs into our lives, letting them work their magic on us. Exploring herbal medicine from an energetic perspective, she reveals that by communing with the deva of a plant, we can call on the plant's physical, psychological, and spiritual medicine and guidance--without ingesting it or even being in its presence.

Detailing the sacred space of a Medicine Wheel Garden, whether in a backyard or our imaginations, she connects us with the devas and empowers us to seek our own answers with their much-needed spiritual guidance and divinatory advice. Creating a bridge between botanical medicine and plant spirit medicine, she shows how by coming into community with the devas and co-creating with the world of nature, we can gain tremendous insights to help heal our hearts, our minds, and our spirits and consciously evolve as together we birth the New Earth.
Praise For Wisdom of the Plant Devas: Herbal Medicine for a New Earth…
"What a fitting title for a marvelous book! From the opening paragraph when Thea enticingly invites us into the magical realm of the plant devas to the ending story about uva ursi, I was thoroughly and completely captivated. Though I've experienced this sacred relationship with the plants and have read about it in several other excellent books, Thea's account is refreshingly unique, deeply authentic, and easily accessible to the reader. She makes what at times may seem unbelievable to some--the ability to converse with other life-forms--to be fully believable and accessible to anyone. Woven into Wisdom of the Plant Devas is Thea's own wonderful story and heartfelt deep relationship with plant devas. My only criticism is that I was sorry when the book ended. I wanted more!"
— Rosemary Gladstar, herbalist and founder of United Plant Savers, author of Rosemary Gladstar's

"The plants continue to turn up the volume urging us to listen to their guidance for our spiritual evolution. Wisdom of the Plant Devas is the next level of communication with the green beings, revealing important information not only about our personal growth and planetary transformation but also about our connection to the entire universe. Thea Summer Deer shares her communication with the plant devas, the architects who help deepen our relationship to the spirit of the plant, with amazing clarity, love, and light. This book is a must read for all people wanting to take up their rightful relational place in the vast web of life both earthly and beyond."
— Pam Montgomery, author of Plant Spirit Healing

"Thea Summer Deer, a long-time teacher in the Wise Woman herbalist tradition sees the plants as sacred, their healing powers based on a personal and spiritual relationship between plant and healer. In her splendidly written new book she is a knowledgeable and impassioned guide not only to the spirits of thirteen important healing plants, but also to a special way of thinking about our healing bond with the spirits of all the plants with which we live."
— Stephan V. Beyer, author of Singing to the Plants: A guide to Mestizo Shamanism in the Upper Amazon

"... the book inspired me to cement my belief that nature has extraordinary healing power."
— Beliefnet, November 2011

"What a beautiful book this is! Not only is it physically beautiful with heavy pages and gorgeous color pictures, it is emotionally and spiritually beautiful. The author has worked with the herb devas for a very long time and now shares with us some of what she has learned...Perfect gift for anyone interested in healing, gardening, plants and herbs."
— New Spirit Journal, December 2011

"Thea Summer Deer is actively working to birth a New Earth, full of light beings that evolve from this current existence toward one in which all of our needs are provided for simply through asking. The messages she conveys through the plants support this journey, reassuring us that they will help bring our bodies into wholeness, our minds into community, and our emotions into glorious balance with the energies that surround us. Wisdom of the Plant Devas is a beautiful, wonderful gift from the author (and plant allies) to the world."
— Joan Kovatch, Sage Woman Magazine

"...it's a good model for deepening relationships with plant totems and other spirits."
— Lupa, Facing North

"Wisdom of the Plant Devas is a beautiful, wonderful gift from the author (and plant allies) to the world."
— Joan Kovatch, Sagewoman Magazine

"Bravo! This is my new favorite plant book! To take it a step further, it is one I wish I had written. Wisdom of the Plant Devas is a rich and generous treasure trove of information and inspiration and an articulate expression of the power of spirit in medicine."
— Nicki Scully, author of Planetary Healing: Spirit Medicine for Global Transformation and Power Anima

"In this lovely book, Thea Summer Deer takes us on a fascinating journey into the hidden world of the plant devas and shares their powerful message of Earth wisdom, transformation, and healing."
— Nathaniel Altman, author of The Deva Handbook and The Honey Prescription

"The devas will tell you their stories, recite their poetry, regale you with pronouncements, and show you their portraits. You may fall in love. You may never return."
— Susun S. Weed, author of Wise Woman Herbal series
Bear & Company, 9781591430858, 224pp.
Publication Date: August 19, 2011
About the Author
Thea Summer Deer is a clinical herbalist, singer-songwriter, midwife, and childbirth educator. Raised with the Seminole Indians in South Florida until the age of eight, she lives surrounded by Cherokee ancestral land in the Appalachian Mountains of western North Carolina.

Lewis Mehl-Madrona, M.D., Ph.D., is a physician, associate professor at the University of New England College of Osteopathic Medicine, and executive director of the Coyote Institute for Studies of Change and Transformation. The author of several books, including Narrative Medicine and Coyote Medicine, he lives in Orono, Maine.