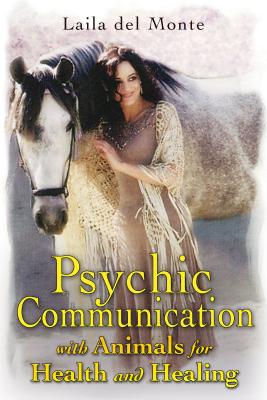 Psychic Communication with Animals for Health and Healing
Paperback

* Individual store prices may vary.
Description
The transformation and insights of an acclaimed flamenco dancer turned world-renowned animal communicator and healer

• Presents powerful case histories of animals with whom she communicated and treated

• Offers instruction on how to establish communication with animals

When Laila del Monte was a child growing up on the Balearic island of Formentera, she experienced a special bond with the animals that were a part of her life. Later, as she became entirely focused on her career as a flamenco dancer, she resisted those who told her that her true vocation was as a healer. But when her own health challenges jeopardized her dancing career, the healing energies she received from both her human and animal teachers raised her consciousness about the important insights animals have to offer on the state of our physical and emotional well-being.

In this book Laila del Monte reveals how the unconditionally loving nature of animals very often leads them to take on the physical pains and negative emotional experiences of the human beings in their lives. The animals absorb negative emotions such as guilt, anger, jealousy, and other issues that stop people from moving forward and reflect these back in their animal behavior. Through her work with countless animals suffering from behavioral disorders or who have been sick or injured, del Monte learned that the physical healing of the animals is directly tied to the emotional healing of the people they are close to.

The stories and situations she shares in this book demonstrate that learning what animals have to teach us about our lives does not require any magical formula or laborious training--it is part of our natural birthright. We need only to revive our own deep intuition to restore this connection. The authenticity and loving nature of del Monte's approach is not only testimony to her dedication and amazing abilities but also shows us the way we can follow the same path simply and honestly.
Praise For Psychic Communication with Animals for Health and Healing…
"My Swedish Warmblood stallion named L.A. Baltic Inspiration is greatly improved from a longstanding problem, which seemed to have no apparent solution. More important, he is physically fit, healthy, and happy with his life. I am very grateful to Laila and her guides for their assistance."
— Gail Hoff-Carmona, Ph.D., Los Alamos Dressage Center

"Laila del Monte is someone I admire and consider one of the clearest communicators with animals as well as having access to the highest consciousness and energy. She had demonstrated this redundantly in my presence and I strongly endorse and suggest everyone read her book and apply the incredible knowledge within. She is on the forefront of bringing awareness that animals have souls, are very subjective and often take on the owners unresolved issues to the point of physically manifesting disease if not addressed and healed beforehand. In this work she is unsurpassed."
— James Gilliland, eceti.org, bbsradio.com, worldpuja.net, March 2010

"Perhaps the most compelling sections of the book are those where del Monte illustrates why animals come into our lives. . . . Their main reason for entering our lives, according to del Monte, is to allow us to experience love. Animals are highly qualified specialists in demonstrating unconditional love. This book gives numerous examples of the human beings who never experienced true love until they became attached to their pet."
— Catherine Ferguson, review, New Age Retailer, April 2010

"I encourage anyone that has a pet of any kind to consider reading Psychic Communication with Animals for Health and Healing by Laila del Monte to get a better understanding of the healers we have in our midst. Using our own intuition and guidance we can communicate with our counterparts in healing ourselves, them, and our planet."
— Irene Watson, Reader Views, August 2010

"Psychic Communication with Animals for Health and Healing is a choice pick for spiritual readers who want to understand another aspect of healing."
— James A. Cox, The Midwest Book Review, May 2010
Bear & Company, 9781591431008, 224pp.
Publication Date: March 9, 2010
About the Author
Laila del Monte earned a master's degree in the history of religion from the Sorbonne before becoming an acclaimed flamenco dancer. She teaches animal communication in the United States and in Europe, her specialty being "problem horses" and healing sick and injured animals. She lives in Los Angeles and Paris.