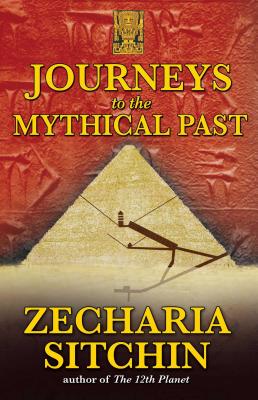 Journeys to the Mythical Past
Paperback

* Individual store prices may vary.
Description
The paperback release of the second volume of Sitchin's autobiographical account of the investigations and discoveries that led to The Earth Chronicles series

• Zecharia Sitchin tells how his life was at risk inside the Great Pyramid and reveals the existence of a secret chamber

• Reports on Vatican encounters, the Iceman of the Alps, the Antikythera computer, the temples and Ruts of Malta--and offers a solution to the enigma of the Nazca lines

In Journeys to the Mythical Past the renowned researcher of antiquity Zecharia Sitchin reveals, for the first time, the existence of a secret chamber in Egypt's Great Pyramid, and he tells his own story of an indefatigable dedication to finding the truth that almost cost him his life--accidentally or otherwise--when uncovering secrets of the Giza pyramids and Sphinx. Exposing hidden artifacts that contradict establishment assumptions or that baffle scientists, Sitchin's firsthand accounts of his explorations take the reader into the inner workings of the Vatican, the enigma of a futuristic computer from millennia ago, and the secret handiwork of a Divine Architect at Stonehenge, at Malta, and at a site in the Americas.

Looking deep into antiquity, Sitchin offers astounding evidence that links the Nazca lines and a baffling adjoining site to the Departure from Earth of the Anunnaki, the ancient gods who, he believes, vowed to Return.
Praise For Journeys to the Mythical Past…
"It is well worth the price of admission to witness this bestselling author, investigator, and scholar in action, up-close and personal."
— Fate magazine
Bear & Company, 9781591431084, 256pp.
Publication Date: June 25, 2009
About the Author
Zecharia Sitchin (1920-2010), an eminent Orientalist and biblical scholar, was born in Russia and grew up in Palestine, where he acquired a profound knowledge of modern and ancient Hebrew, other Semitic and European languages, the Old Testament, and the history and archaeology of the Near East. A graduate of the University of London with a degree in economic history, he worked as a journalist and editor in Israel for many years prior to undertaking his life's work--The Earth Chronicles.

One of the few scholars able to read the clay tablets and interpret ancient Sumerian and Akkadian, Sitchin based The Earth Chronicles series on the texts and pictorial evidence recorded by the ancient civilizations of the Near East. His books have been widely translated, reprinted in paperback editions, converted to Braille for the blind, and featured on radio and television programs.