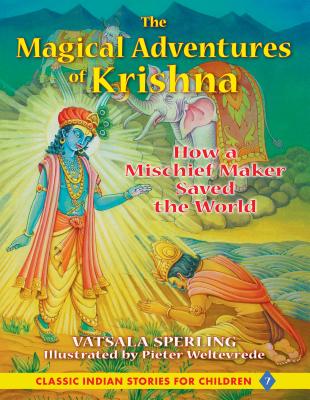 The Magical Adventures of Krishna: How a Mischief Maker Saved the World (Hardcover)
How a Mischief Maker Saved the World
Bear Cub Books, 9781591431107, 32pp.
Publication Date: November 1, 2009
Description
Features Krishna, one of the most beloved characters of the Hindu pantheon, a spirited naughty boy who grows up to save the world - Based on original stories from India adapted for Western children - Illustrated throughout with glowing full-color paintings in traditional Indian style Long, long ago, the world was overrun by terrible demons. Even the Earth goddess, Bhumi, was unable to protect the land. She appealed to Vishnu, God of Preservation, who agreed to be born on Earth as Krishna, to save the world from destruction. Krishna is part superhero, part mischievous boy, and tales of his exploits--from childish pranks to death-defying demon slayings to his enchantment of the milkmaids--have delighted Indian children for centuries. Like every child, Krishna tries to be good, but his irrepressible high spirits lead him into any number of mischievous escapades. In the end, though, all of his adventures lead to a happy conclusion. His mother, Yashoda, loves him no matter what he does, reminding us that children who get all the love they need grow up strong and brave and ready to save the world. The glowing illustrations, executed in transparent watercolors and tempera paints, are done in a centuries-old method traditional to India. Richly detailed, they bring to life the colorful cast of characters--humans, gods, and demons alike.
About the Author
Vatsala Sperling, Ph.D., a native of India, learned these stories at her mother's feet and enjoys introducing them to children of the Western world. She is the author of several books in this series, including most recently Ganga: The River that Flows from Heaven to Earth. Pieter Weltevrede began his artistic studies with Harish Johari in 1977 and also studied with Shri Chandra Bal. He has illustrated several books in this series, including Ganga and Ram the Demon Slayer.
Praise For The Magical Adventures of Krishna: How a Mischief Maker Saved the World…
"I was so pleased to discover recently that the publishing house, Inner Traditions, has a division called Bear Cub Books, which features children's storybooks including classic Indian stories for children. Each culture throughout history shares myths, parables, and folklore, in order to teach children about morals and the human condition and the Hindu traditions and stories are both fascinating and delightful to read. . . . Beautifully written by Dr. Sperling, she does a wonderful job of explaining the characters, so that they can be easily loved and understood by western children as an introduction to Hindu culture and traditions."
-Kala Ambrose, Metaphysical Spirituality Examiner, March 2010

"The seventh title in the outstanding 'Classical Indian Stories for Children' series . . . keeps its readers enthralled with all of the rollicking exploits of its human, divine, and demonic cast of characters."
-The Midwest Book Review, Feb 2010

"Krishna's birth and His exploits in killing the many demons that were sent by His uncle Kamsa to kill Him are narrated well by Vatsala. Her style is simple and at the same time she holds the reader's attention. The illustrations by Pieter Weltevrede add great value to the excellent narration. The result is an excellent introduction to Krishna Tatva and Krishna Consciousness to those not yet exposed. To others, it would be one more opportunity to enjoy the nectar of Krishna's love for the whole creation."
-S.V. Swamy, Swamy's Reviews, Jan 2010

"Highly recommended for ages 6 and older, and anyone interested in world cultures."
-Awareness Magazine, October 2011
Advertisement