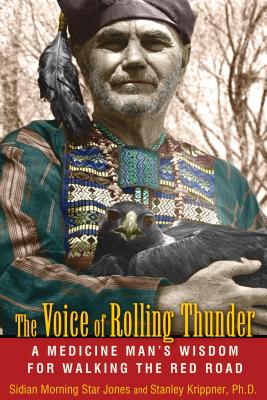 The Voice of Rolling Thunder (Paperback)
A Medicine Man's Wisdom for Walking the Red Road
Bear & Company, 9781591431336, 392pp.
Publication Date: September 28, 2012
* Individual store prices may vary.
Description
Rolling Thunder's life and wisdom in his own words and from interviews with those who knew him well

• Contains never-before-released talks by Rolling Thunder preserved by the Grateful Dead's Mickey Hart as well as accounts of remarkable healings and weather magic from famous personalities who knew him

• Explains that in order to heal Nature's afflictions we must first restore balance and unity in ourselves

Intertribal medicine man Rolling Thunder (1916-1997) was a healer, teacher, visionary, and activist who rose to popularity in the 1960s and '70s through his friendship with artists such as Bob Dylan and as the inspiration for the Billy Jack films. Eyewitness accounts of his remarkable healings are legion, as are those of his ability to call forth the forces of nature, typically in the form of thunder clouds.

Yet it was his equally uncommon gift as a prophet and living representative of Native American wisdom that truly set him apart from other spiritual teachers of that era. Thirty years before most people had ever heard of global warming, Rolling Thunder described in graphic detail the signs of encroaching planetary doom and campaigned for environmental harmony. The key to healing nature's afflictions, he maintained, is to first restore balance and unity in ourselves.

Containing never-before-released talks preserved by the Grateful Dead's Mickey Hart, this book shares the teachings of Rolling Thunder in his own words and through inspiring interviews with psychologist Alberto Villoldo and other famous personalities who knew him. Collected and edited by his grandson Sidian Morning Star Jones and longtime friend Stanley Krippner, this book allows you to incorporate Rolling Thunder's wisdom into your own life.
About the Author
Sidian Morning Star Jones, Rolling Thunder's grandson and one of the caretakers of his spiritual legacy, is a graphic designer and founder of Open Source Religion. He lives in Boise, Idaho.

Stanley Krippner, Ph.D., is a professor of psychology at Saybrook University and past president of the Association for Humanistic Psychology. The recipient of several distinguished awards and author and coauthor of many books, including Demystifying Shamans and Their World, he lives in San Rafael, California.
Praise For The Voice of Rolling Thunder: A Medicine Man's Wisdom for Walking the Red Road…
"Rolling Thunder had deep knowledge of both the animal powers and the seeded earth. This book eloquently demonstrates how Rolling Thunder used this knowledge in his healing magic and possessed an 'eagle's eye' that guided him on his shamanic journeys."
— Mickey Hart, percussionist and musicologist, best known as one of the drummers of The Grateful Dead

"Rolling Thunder was a medicine man who had extraordinary 'presence' in everything he did. This remarkable book will remind its readers of the mysterious role personal power plays in healing."
— Leslie Gray, Ph.D., President of The Woodfish Foundation

"Rolling Thunder, an intertribal medicine man, never claimed to be a shaman himself, but played an important role in reconnecting contemporary healing with shamanic traditions. This wonderful book honors his memory and reveals both his extraordinary talents and his very human strengths and frailties."
— Jurgen Kremer, Ph.D., President of the Society for the Study of Shamanism, Healing, and Transformati

"This book is an accessible, authoritative and interesting treatise on Native American healing. I found it thoroughly enjoyable, valuable, and provocative."
— Richard Clemmer-Smith, Professor; Curator of Ethnology, DU Museum of Anthropology

"Rolling Thunder was a catalyst for serious pioneering scholarship in the shamanic healing arts."
— Oscar Miro-Quesada, founder of Heart of the Healer

"In many ways, Rolling Thunder was the most traditional of all the medicine people I have known."
— Kenneth Cohen, author of Honoring the Medicine

"Containing never-before-released talks preserved by the Grateful Dead's Mickey Hart, this book shares the teachings of Rolling Thunder in his own words and through inspiring interviews with psychologist Alberto Villoldo and other famous personalities who knew him. Collected and edited by his grandson Sidian Morning Star Jones and longtime friend Stanley Krippner, this book allows you to incorporate Rolling Thunder's wisdom into your own life."
— Branches of Light, October 2012

"Referring to the earth as a living being, Rolling Thunder taught – far in advance of recent discussions of global warming – that 'the sickness of the natural environment is a reflection of the sickness of human beings.' According to the authors, this book is both 'a glimpse of this controversial man who some thought to have authentic shamanic powers and others thought to be a charlatan' and the story of an exciting era in American History."
— Deborah Donovan, Booklist, November 2012

"The Voice of Rolling Thunder is a pick for new age, spirituality and Native American holdings alike and provides a fine guide from an intertribal medicine man who was a healer, teacher and activist and who befriended such artists as Bob Dylan. His unique brand of Native American prophecy and wisdom set him apart from other spiritual teachers of his times, and this offers never-before-released talks preserved by Mickey Hart sharing the teachings of Rolling Thunder in his own words and through interviews. His grandson Sidian Morning Star Jones collects and edits these unique words, highly recommended for any Native American or new age holding."
— California Bookwatch, December 2012

"In conclusion, there is always more that can be learned about shamanism in general and the life of Rolling Thunder in particular. In that regard, I highly recommend The Voice of Rolling Thunder to those seeking to further the inquiry and understanding of the difficult path associated with the acquisition of such knowledge."
— Mark Schroll Ph.D., AHP Perspective, June 2013

"I found The Voice of Rolling Thunder to be a rich reading experience and highly recommend it to all who seek to know more about Rolling Thunder and the many forces and influences surrounding him and other Native Americans."
— Dream Network Journal, August 2013