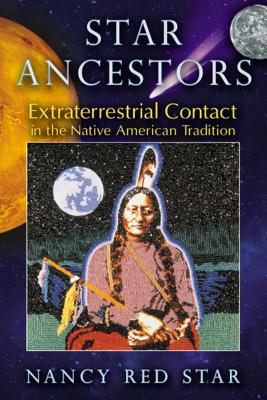 Star Ancestors
Extraterrestrial Contact in the Native American Tradition
Paperback

* Individual store prices may vary.
Description
Explores the long-standing contact between American Indian tribes and extraterrestrial visitors through interviews with the tribes' spiritual leaders

• Shares the wisdom and ET experiences of Dawnland founder Dana Pictou, Mayan daykeeper Hunbatz Men, Choctaw wisdomkeeper Sequoyah Trueblood, and Creek healer and artist Shona Bear Clark

• Includes color photos of ET-inspired work by prominent Indian artists as well as traditional Indian art depicting contact with "Sky Elders"

As humanity stands at the crossroads between the Fifth and the Sixth Worlds, American Indian wisdomkeepers have recognized signs that they must now speak their closely held knowledge about extraterrestrial contact, their original instructions from the Sky Elders. These ET relationships have existed since the beginning of time. They have been depicted on ancient rocks and hides, embedded in creation stories, choreographed in sacred dances, beaded on wampum belts, and continued to this day through rituals and the tobacco blessing. They show that with the vital support of our Star Ancestors, we can bring our planet back into balance with natural laws.

Exploring the unifying "Sky Elder" theme found in virtually every Indian culture, Nancy Red Star shares her profound interviews with wisdomkeepers from several Native traditions, including Mayan elder and daykeeper Hunbatz Men, Stargate International CEO and UFO researcher Cecilia Dean, and Choctaw medicine man Sequoyah Trueblood, and offers their teachings on taking our rightful place among the peoples of the universe.

Laying out a path for rebuilding our world, the Sky Elders' original instructions initiate us into the possibility of a coming time of peace. Inviting all peoples to realize their Star ancestry, the women and men of proud lineage and inspiring wisdom who share their experiences here offer us a survival plan for walking into the next world.
Praise For Star Ancestors: Extraterrestrial Contact in the Native American Tradition…
"The Red Race, according to Edgar Cayce, were the descendants of Atlantis. According to Nancy Red Star, the Red Race had special agreements with the star people. Nancy and many native elders tell their astonishing stories in this book-stories of extraterrestrial contacts. This book is a wonderful page turner; it gently makes you question every level of reality."
— Michael Peter Langevin, Magical Blend

"Star Ancestors is lavishly illustrated with mostly color photographs of the wisdomkeepers interviewed for the book, as well as with numerous examples of Native-American artwork in many different media.The art harmonizes beautifully with the undeniable authenticity of the stories told-stories that both entertain and enlighten even as they ominously point the way to a dangerous tomorrow that threatens people of all cultures everywhere."
— Fate, March 2001

". . . a book in which the very pages seem to emanate a truth that must be listened to, must be heard. The beauty and strength of these timekeepers' lives and stories stir us to wake up and respond actively to the brilliant wisdom now being revealed to us from sources beyond what we have seen, but which perhaps some of us have always known."
— Spirit of Change, January/February, Vol. 14, No. 65

"The knowledge imparted through these legends gives us instructions on how to take care of our precious planet in a time of increasing destruction of habitat, etc. Illustrated throughout with photos of those whose stories are finally being told, as well as the prophecies themselves, which were carved on rocks or in temples, or told through sacred dance or on beaded story belts. A truly Fascinating read."
— Sue Stein, Fate Magazine, August 2012

"This book resonates with my heart and philosophy on many levels, setting this aside the professionalism that Red Star approached the task to bring this information into the public domain is commendable. Any human on this planet that is concerned about it will surely resonate with this book early on and will also do as I have done and acquire immediately the other two books in the trilogy. This work is immensely significant yet thoroughly enjoyable."
— James Swagger, Capricorn Radio, July 2013

"[A] memorable book, stunningly illustrated with both color photographs of the elders and painting and sculpture by Native American artists."
— Barbara Ardinger, Whole Life Times, February 2002

"Nancy Red Star is to be commended for compiling this highly visionary and timely text. Combined with the unique artwork, the interviews of contemporary American Indian spiritual leaders compellingly interweave poignant personal experience with prophecy and Star history to create a serious and deeply moving call for spiritual readiness in the face of the great Earth changes now upon us."
— Jose Arguelles, Ph.D., author of The Mayan Factor

"Exceptional."
— Today's Books, October 2000
Bear & Company, 9781591431435, 224pp.
Publication Date: May 11, 2012
About the Author
Nancy Red Star (Nv-Ya-Gi-Ga-Gi), daughter of the Cherokee, is a descendant of the Red Man, Vann, Parker, Mathews bloodline. Federally enrolled in the Red Lake Nation tribe, she is the producer, writer, and director of the feature documentary films Star Ancestors and The Trap-Line Song presented by Willow Spirit Productions LLC.