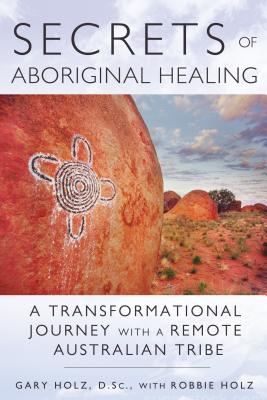 Secrets of Aboriginal Healing
A Physicist's Journey with a Remote Australian Tribe
Paperback

* Individual store prices may vary.
Other Editions of This Title:
Digital Audiobook (1/7/2019)
Paperback (9/21/2013)
Description
A guide to the 60,000-year-old healing system of the Aborigines revealed through one man's journey to overcome multiple sclerosis

• Written at the request of the Aboriginal people the author stayed with

• Explores the use of dreamtime, spirit guides, and telepathy to discover and reprogram the subconscious motivations, thought patterns, and beliefs behind illness

• Reveals how to tap in to healing support through the body/mind/spirit connection

• Nautilus Silver Medal Winner and ForeWord Reviews Book of the Year Finalist

In 1983 award-winning physicist Gary Holz was diagnosed with chronic progressive multiple sclerosis. By 1988 he was a quadriplegic. Then, in 1994, his doctors told him he had two years to live. Desperate and depressed, he followed a synchronistic suggestion and went to Australia to live with a remote Aboriginal tribe. Arriving in a wheelchair, alone, with almost no feeling left from the neck down, Holz embarked on a remarkable healing transformation of body, mind, and spirit and discovered his own gift for healing others.

Written at the request of the Aboriginal healers Holz worked with, this book reveals the beliefs and principles of the 60,000-year-old healing system of the Aborigines of Australia, the world's oldest continuous culture. Chronicling the step-by-step process that led to his miraculous recovery, he explains the role played by thought in the creation of health or disease and details the five essential steps in the Aboriginal healing process. He explores the use of dreamtime, spirit guides, and telepathy to discover and reprogram the subconscious motivations behind illness--a process that enacts healing at the cellular and the soul level, where the root of physical illness is found.

Supported by modern science, including quantum physics, Aboriginal medicine enables each of us to tap in to healing support through the power of the body/mind/spirit connection.
Praise For Secrets of Aboriginal Healing: A Physicist's Journey with a Remote Australian Tribe…
"What so many of us seek is not more information but guided wisdom that resonates with a deep place in our soul. One of love, nurturing, and truth that acts as another breadcrumb on the path to our true selves and healing at all levels. Robbie and Gary Holz's footsteps on this sacred journey are what they share with readers in this book and in their work."
— Rik Roberts, psychologist and retired journalist

"Secrets of Aboriginal Healing is more than a manual for understanding Aboriginal healing secrets. It is an inspiring memoir that provides an immediate soul-healing to anyone who reads it."
— Robert Simmons, Metaguide Magazine/Heaven & Earth Publishing, January 2014

"Secrets of Aboriginal Healing demonstrates how--against all odds--an ordinary human being can participate in their own healing process and move from extreme illness to high-level wellness. A must read for anyone who wants to gain freedom from disease and other challenging circumstances."
— Marilyn McGuire, founder of Nautilus Book Awards

"In this dramatic and inspiring book Gary Holz charts a course on how intuition, surrender, and willingness are essential to the heroic journey of healing oneself."
— Ward Serrill, filmmaker, director, and writer of the award-winning film The Heart of the Game

". . . allows us a special glimpse into the heart of the Aboriginal world. It offers us insights into an ancient system of healing that touches on all aspects of wellness, from the physical to the spiritual to the emotional."
— Joy Parker, coauthor of Woman Who Glows in the Dark and Maya Cosmos

"This story inspires us to engage our own life more fully--to awaken our own inner capacity for well-being--no matter where we find ourselves."
— Jim Macartney, author of Crisis to Creation: Our Power of Choice

"Anyone who needs to heal would enjoy this book."
— Krysta Gibson, editor of New Spirit Journal

"Different from most self-help books, Secrets of Aboriginal Healing gives a more personal voice to learning about the healing powers we each have inside of us."
— Pat Ratliff, editor of Edmonds Beacon
Bear & Company, 9781591431756, 128pp.
Publication Date: September 2, 2013
About the Author
Gary Holz, D.Sc. (1950-2007), was an award-winning physicist and a psycho-neuro-immunologist. In 1994, confined to a wheelchair with multiple sclerosis, he went to Australia to stay with an Aboriginal tribe and experienced miraculous healing.

Robbie Holz is a holistic health consultant dedicated to continuing the healing work of her late husband. She healed herself of hepatitis C and has worked with Aboriginal healers in Australia. She lives near Seattle.