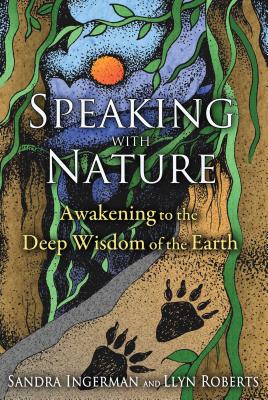 Speaking with Nature
Awakening to the Deep Wisdom of the Earth
Paperback

* Individual store prices may vary.
Other Editions of This Title:
Digital Audiobook (1/7/2019)
Description
Connecting with nature and nature beings to help heal us and the Earth

• Provides experiential practices to communicate with nature and access the creative power of the Earth

• Shares transformative wisdom teachings from conversations with nature beings, such as Snowy Owl, Snake, Blackberry, Mushroom, and Glacial Silt, exploring the role of each in bringing balance to the planet

• 2015 Nautilus Gold Award

Nature and the Earth are conscious. They speak to us through our dreams, intuition, and deep longings. By opening our minds, hearts, and senses we can consciously awaken to the magic of the wild, the rhythms of nature, and the profound feminine wisdom of the Earth. We can connect with nature spirits who have deep compassion and love for us, offering their guidance and support as we each make our journey through life.

Renowned shamanic teachers Sandra Ingerman and Llyn Roberts explain how anyone can access the spirit of nature whether through animals, plants, trees, or insects, or through other nature beings such as Mist or Sand. They share transformative wisdom teachings from their own conversations with nature spirits, such as Snowy Owl, Snake, Blackberry, Mushroom, and Glacial Silt, revealing powerful lessons about the feminine qualities of nature and about the reader's role in the healing of the Earth. They provide a wealth of experiential practices that allow each of us to connect with the creative power of nature. Full of rich imagery, these approaches can be used in a backyard, in the wilderness, in a city park, or even purely through imagination, allowing anyone to communicate with and seek guidance from nature beings no matter where you live.

By communing and musing with nature, we learn how to speak to the spirit that lives in all things, bringing balance to us and the planet. By tapping into the feminine wisdom of the Earth, we evoke a deep sense of belonging with the natural world and cultivate our inner landscape, planting the seeds for harmony and a natural state of joy.
Praise For Speaking with Nature: Awakening to the Deep Wisdom of the Earth…
"At this time of global ecological crisis, the Earth is urgently calling to us to be awake and reconnect with her ancient wisdom. Speaking with Nature is a beautiful response to that call, helping us to listen to the divine feminine and her ways of knowing, and to the spirit world that is all around us. These stories and practices speak to the real need of the time, relearning how to live in sacred companionship with our magical and mysterious inner and outer Earth."
— Llewellyn Vaughan-Lee, Ph.D., Sufi teacher and coauthor of Spiritual Ecology

"Speaking with Nature is potent medicine. Written in collaboration by two deeply wise and intentional women, this book is abundant with practical insights, skill-building, and stories to deepen readers' relationships with themselves (the feminine and the sacred) through nature. I was immediately immersed in its accessible, intimate storytelling style and content and couldn't put it down. Whether you are new to Earth Wisdom or shamanism or an experienced practitioner, this book is sure to delight. I LOVE this book!"
— Nina Simons, cofounder of Bioneers and editor of Moonrise: The Power of Women Leading from the Heart

"To talk about the sacred in simple, sincere terms is itself a revolutionary act. What touches me most in this book is the writers' daring. It's their courage at expressing what all of us experience in private, magical moments but often don't dare to repeat to ourselves--let alone anyone else. To discover our own inner nature, and how it's one with the nature outside us, isn't just a sweet and blissful process. It can take us right to the edges of grief or sickness, but that's where the healing lies."
— Peter Kingsley, author of Reality and A Story Waiting to Pierce You

"A thoughtful and accessible introduction to Earth-centered spirituality, Speaking with Nature starts from the simple act of spending time in nature and follows the spirals of life from that starting point out into the wisdom and wonder of the living cosmos. It's a journey worth taking, and Sandra Ingerman and Llyn Roberts are capable guides."
— John Michael Greer, Grand Archdruid, Ancient Order of Druids in America, and author of The Druidry H

"Sandra and Llyn provide simple yet profound insights into the sacredness and magic of nature and, in so doing, give us clear guidance as to how we can participate in transforming ourselves, our communities, and the world we live in. Rarely have I felt such resonance with a book."
— Nicki Scully, author of Power Animal Meditations, Alchemical Healing, and Planetary Healing

"In Speaking with Nature, Sandra and Llyn have given us an opportunity to walk with them through the rain forest and desert as they share their experiences of the beings and environs of Nature, where both inner and outer landscapes are explored. As their stories unfold, an ancient remembrance is awakened. Thank you, Sandra and Llyn, for writing this blessing of a book where we all are invited to come home to ourselves as natural beings."
— Pam Montgomery, author of Plant Spirit Healing

"These essays originate in very different ecosystems—Ingerman's insights hail from the New Mexico deserts, while Roberts' experiences come from her time in Washington State's Hoh Rainforest—but the earthy, spiritual, and feminine language they speak is the same. Even when the topics turn quite esoteric the writers' experiences give these passages added weight. When they use energy work to change the acidity of a body of water, and document the changes, even the most skeptical reader will have to look twice at their message."
— Publisher's Weekly, June 2015
Bear & Company, 9781591431909, 288pp.
Publication Date: April 27, 2015
About the Author
Sandra Ingerman, M.A., is a renowned shamanic teacher who gives workshops internationally on shamanic journeying, healing, and soul retrieval. An award-winning author of 10 books, including Awakening to the Spirit World and Soul Retrieval, she lives in Santa Fe, New Mexico.

Llyn Roberts, M.A., is an acclaimed teacher of healing and shamanism who facilitates sacred journeys to work with indigenous people throughout the world. She teaches at Omega Institute in Rhinebeck, New York, and at Esalen in Big Sur, California. The award-winning author of several books, including Shamanic Reiki and Shapeshifting into Higher Consciousness, she lives near the Hoh Rain Forest in Washington State.