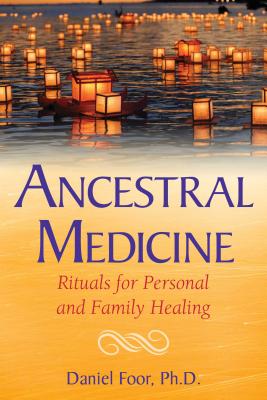 Ancestral Medicine (Paperback)
Rituals for Personal and Family Healing
Bear & Company, 9781591432692, 336pp.
Publication Date: July 11, 2017
* Individual store prices may vary.
Description
A practical guide to connecting with your ancestors for personal, family, and cultural healing

• Provides exercises and rituals to help you initiate contact with your ancestors, find ancestral guides, and assist the dead who are not yet at peace

• Explains how to safely engage in lineage repair work by connecting with your more ancient ancestors before relating with the recently deceased

• Explores how your ancestors can help you transform intergenerational legacies of pain and abuse and reclaim the positive spirit of the family

Everyone has loving and wise ancestors they can learn to invoke for support and healing. Coming into relationship with your ancestors empowers you to transform negative family patterns into blessings and encourages good health, self-esteem, clarity of purpose, and better relationships with your living relatives.

Offering a practical guide to understanding and navigating relationships with the spirits of those who have passed, Daniel Foor, Ph.D., details how to relate safely and effectively with your ancestors for personal, family, and cultural healing. He provides exercises and rituals, grounded in ancient wisdom traditions, to help you initiate contact with your ancestors, find supportive ancestral guides, cultivate forgiveness and gratitude, harmonize your bloodlines, and assist the dead who are not yet at peace. He explains how to safely engage in lineage repair work by connecting with your more ancient ancestors before relating with the recently deceased. He shows how, by working with spiritually vibrant ancestors, individuals and families can understand and transform intergenerational patterns of pain and abuse and reclaim the full blessings and gifts of their bloodlines. Ancestral repair work can also catalyze healing breakthroughs among living family members and help children and future generations to live free from ancestral burdens. The author provides detailed instructions for ways to honor the ancestors of a place, address dream visits from the dead, and work with ancestor shrines and altars. The author offers guidance on preparing for death, funeral rites, handling the body after death, and joining the ancestors. He also explains how ancestor work can help us to transform problems such as racism, sexism, homophobia, and religious persecution.

By learning the fundamentals of ancestor reverence and ritual, you will discover how to draw on the wisdom of supportive ancestral guides, heal family troubles, maintain connections with beloved family after their death, and better understand the complex and interconnected relationship between the living and the dead.
About the Author
Daniel Foor, Ph.D., is a licensed psychotherapist and a doctor of psychology. He has led ancestral and family healing intensives throughout the United States since 2005. He is an initiate in the Ifa/Orisha tradition of Yoruba-speaking West Africa and has trained with teachers of Mahayana Buddhism, Islamic Sufism, and different indigenous paths, including the older ways of his European ancestors. He lives in Asheville, NC.
Praise For Ancestral Medicine: Rituals for Personal and Family Healing…
"Ancestor reverence is one of the pillars of Yoruba traditional religion, and it is my pleasure to recommend this book on ancestral healing by my student (omo awo), Daniel Foor (Ifabo wale). Through numerous visits to our home in Nigeria, I have overseen his initiations to Ifa, Orisa, and the ancestral medium society (Egungun), and I know him to be a person of good character. I urge everyone to benefit from his guidance on ancestral reconnection. Remain blessed."

"Daniel Foor invites us on a journey to meet our ancestors, those we know about, those we have never imagined, and those who might like to talk with us. He draws not only on personal experience but also on the shared and tested relational practices of indigenous communities in Africa, North America, and elsewhere. This powerful book arises from years of work with groups and individuals so that as we read it we can benefit not only from the teaching but also from practical exercises. Ancestral Medicine offers a host of possibilities for our further reflection and practice."

"In traditional societies, ancestors are venerated and considered sources of wisdom even after they have left their physical bodies. In contemporary times, few children are conversant with their cultural and ethnic heritage, much less the lives, occupations, and even the names of those family members who passed on only a few decades earlier. In his remarkable book, Daniel Foor provides an antidote for this regrettable situation. Foor's text and exercises provide numerous ways to make one's progenitors a living presence--one that is inspirational, instructive, and, for many readers, transformative for themselves and their families."

"As a priest of the Yoruba indigenous system known as Orisa (or, at times, Ifa in the form of its sacred oral literature), honoring and remembering one's ancestors is both essential and transformative. Daniel Foor offers a multicultural perspective and practice that helps diverse individuals on their journey of spirit to grasp the liberating and empowering foundations of ancestral work."

"The illusion of isolation and its associated fear, fury, and shame of abandonment is the core wound in the heart of humanity. The cure is in turning our love and attention to the stream we rode here on. We are boats of flesh on a river of blood born to heal the ancestors, to be healed by them, and to know, reveal, and grow our souls . . . thus elevating the stream. This river is the salve of the soul, and Daniel Foor clearly knows this. His book Ancestral Medicine is soul medicine for all. The world needs it. Life applauds it. Read, enjoy, heal, and become!"

"Daniel Foor illuminates a field that has too long been neglected in mainstream American culture: acknowledgment of the role our ancestors play in the lives of all of us. Blending his many years of study with a variety of spiritual teachers with meaningful practices he has developed for contemporary people, Foor offers a compendium for recognizing, working with, and honoring connections with our human ancestors--and in the process healing relationships with our family and ourselves. This book is profound, important, and deeply engrossing."

"This book is a real treasure and, the gods be praised, is highly practical. Crafted in thoroughness, wisdom, and deep sensitivity, Ancestral Medicine gives us keys to appreciating, coming to terms with, and even healing our ancestral wounds. More than all this, Daniel Foor calls us to carry the best of our past into the present and future, and to fully live in place and time in Earth-honoring and heart-open ways."

"Daniel combines extensive practical experience with intellectual rigor in his ancestral work, providing one of the best approaches out there today. I recommend his work to anyone interested in truly knowing themselves and gaining solid ground on their own spiritual path."

"The author's culturally inclusive approach adds much to this work, and his passion, clarity, and compassion make Ancestral Medicine invaluable to anyone interested in exploring personal healing, ancestor connections, remediation of family relationships, or healing and reclamation of one's culture of origin."

"Ancestral Medicine is a work of great honesty and integrity. Clear instructions guide the reader in cultivating healthy and reciprocal relationships with ancestors of blood, place, and spiritual lineage. The approach builds on lineage gifts and strengths to heal ancestral rifts and burdens across the generations."

"As with any relationship -- from your relationship to yourself to those with family members and society at large -- connections take time to grow. So it is with our ancestral relationships. Ancestral Medicine can guide you in forming and keeping those relationships vibrant over the course of years, so that as we turn to our ancestors in times of need and joy, they will know they are lovingly remembered."