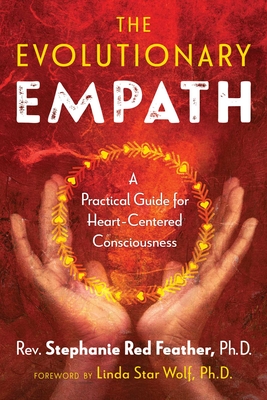 The Evolutionary Empath
A Practical Guide for Heart-Centered Consciousness
Paperback

* Individual store prices may vary.
Other Editions of This Title:
Digital Audiobook (2/24/2020)
Description
A guide for empaths seeking to understand their unique nature, fully manifest their gifts, and embrace their role in the evolution of human consciousness

• 2020 Coalition of Visionary Resources Gold Award

• Explores how an empath's qualities are strengths, not weaknesses, and why empaths are the way-showers for the next step in human evolution

• Includes techniques and exercises to help you understand, control, and fully manifest your gifts, including how to clear your energy field and reclaim your sense of self

• Explains the importance of embracing both the Divine Masculine and Divine Feminine and the impending reactivation of dormant levels of consciousness, which will upgrade our human operating systems to function at a higher frequency

• Includes access to online meditation tracks

As an empath herself, Stephanie Red Feather has experienced firsthand the challenges of being extremely sensitive to subtle energies and the emotions of others. She knows that it can be overwhelming and cause you to lose yourself and doubt who you are. With this guide for anyone who's ever felt out of place because of their sensitivity, Red Feather offers advice on how to manage life's difficulties as an empath as well as insight into how these qualities are vitally important to the future of humanity.

Affirming that being an empath is a real thing and you are not alone in your experience of the world, Red Feather offers practical exercises to help you understand, control, and fully manifest your gifts. She explains how to clear your energy field, stop energy leaks, and reclaim your sense of self. She warns of the pitfalls of being an empath, such as employing your gifts in unhealthy ways, and stresses the importance of embracing both the Divine Masculine, to create boundaries and safety, as well as the Divine Feminine, to practice radical self-care and live authentically from your own center.

Red Feather explains not only that there are now more empaths than ever before, but that this surge in numbers is no coincidence. With the dawning of the Age of Aquarius, empaths represent the new human blueprint. They are the way-showers for the next step in human evolution, and they have a cosmic mission: to usher in a higher level of human consciousness, centered in the heart chakra. Red Feather also explains the impending reactivation of dormant levels of consciousness and cosmic memory, which will upgrade our human operating systems to function at a higher frequency. This shift is already acutely felt by empaths and will allow us to reclaim the lost powers of our ancestors.

With this hands-on guide, Red Feather provides empaths the tools they need to empower themselves and embrace their essential role in the next step of humanity's evolution and ascension into the frequency of heart-centered consciousness.
Praise For The Evolutionary Empath: A Practical Guide for Heart-Centered Consciousness…
"You are not crazy . . . but you're not normal either," the words that open Chapter 1 of The Evolutionary Empath, capture the theme of this wonderful book. Stephanie Red Feather grew up with the vulnerabilities and trials of one who is exceedingly sensitive and attuned to other dimensions. The wisdom and guidance she offers is hard-won and will help illuminate the paths of many who are similarly challenged as well as gifted."
— Donna Eden, author, Energy Medicine

"All sentience is deeply empathic in nature. . . . In the shamanic traditions of Peru--into which Stephanie Red Feather was first initiated in 2005--the virtue of empathy and the ability to love unconditionally are inextricably connected. This lived experience of embodied empathy sustained by selfless love for all our relations has been given brilliant expression throughout the wisely crafted pages of The Evolutionary Empath. Aside from poignantly addressing the species-wide evolutionary imperative behind humankind's current process of spiritual ascension, Red Feather offers readers an extremely practical and long overdue empathy-based methodology capable of transforming all separation into wholeness, uniting the personal with the transpersonal, and consciously choosing love over fear. I highly recommend it!"
— Don Oscar Miro-Quesada, originator of Pachakuti Mesa Tradition cross-cultural shamanism and founder

"Rev. Stephanie Red Feather's The Evolutionary Empath is a gift of true medicine to us all. There are a great many of us who have never felt normal but have also felt like we are part of a greater paradigm shift of consciousness currently in play. At last we have a guidebook that not only provides conceptual insight into the empathic spirit but also outlines practical steps for managing energy, establishing healthy boundaries, and using one's own inherent gifts to uncover the true self. Rev. Red Feather's book is both smart and warmhearted, erudite and clear. The Evolutionary Empath is a navigation tool that, if utilized by anyone interested in evolving consciousness, brings hope to a humanity in desperate need of guidance. Having been in ceremony with Rev. Red Feather myself, I can truly say her actions match her words with a tranquil integrity."
— Daniel Moler, author of Shamanic Qabalah: A Mystical Path to Uniting the Tree of Life & the Great Wo

"In the past we empaths were on our own, sorting through our wild and weird experiences, feelings, and knowings and carefully avoiding being locked up or labeled 'crazy.' Today, we have Rev. Stephanie Red Feather's excellent guidebook, The Evolutionary Empath. She covers the full spectrum of things you need to know to survive and thrive as a highly sensitive empath. This includes the important topics of energetic hygiene, healthy boundary setting, good selfcare, and grounding. A practical guide for you or for the empaths in your life."
— Lion Goodman, PCC, creator of the Clear Beliefs Method
Bear & Company, 9781591433507, 320pp.
Publication Date: November 5, 2019
About the Author
Rev. Stephanie Red Feather, Ph.D., is the founder and director of Blue Star Temple. An ordained shamanic minister, she holds a bachelor's degree in applied mathematics and master's and doctorate degrees in shamanic studies from Venus Rising University. She is also a mesa carrier in the Pachakuti Mesa Tradition of Peru, having studied with Don Oscar Miro-Quesada and his lineage since 2005. She lives near Kansas City, Missouri.

Linda Star Wolf, Ph.D., has been a visionary teacher and shamanic guide for more than 35 years. The founder and codirector of Venus Rising Association for Transformation and the founder and president of Venus Rising University for Shamanic Psychospiritual Studies, she is the creator of the Shamanic Breathwork Process as well as the Shamanic Ministers Global Network and the Wise Wolf Councils. A spiritual granddaughter of Seneca Wolf Clan Grandmother Twylah Nitsch, Star Wolf is the author of Shamanic Breathwork and co-author of Visionary Shamanism, Shamanic Egyptian Astrology, Shamanic Mysteries of Egypt, and The Anubis Oracle. She lives at Isis Cove Retreat Center near Asheville, North Carolina.