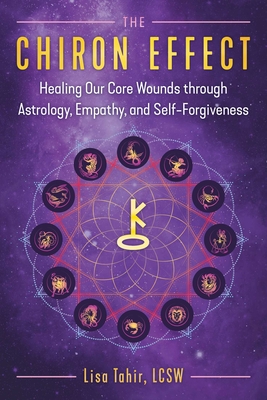 The Chiron Effect
Healing Our Core Wounds through Astrology, Empathy, and Self-Forgiveness
Paperback

* Individual store prices may vary.
Other Editions of This Title:
Digital Audiobook (12/28/2020)
Description
A guide to using astrology to identify your core wounds and heal them using psychological techniques, affirmations, and self-compassion

• Explains how the placement of Chiron in your birth chart identifies the core wounds and unconscious patterns that block empathy and self-forgiveness

• Offers a descriptive chapter for each of the 12 zodiac sign placements for Chiron, revealing how Chiron affects you psychologically, emotionally, sexually, spiritually, socially, financially, and intellectually

• Provides specific steps for each sign to shift self-destructive patterns as well as powerful affirmations infused with Reiki healing energy

We all have experienced disappointment, sadness, rejection, or the loss of something meaningful in our lives. When you are wounded, innate animalistic instincts for self-protection kick in as a means for survival. These behavior patterns are a natural and necessary coping strategy, at first. But many dwell far too long in these patterns and separate themselves from their source of inner wisdom and intuition.

Using astrology as a diagnostic tool, Lisa Tahir reveals how to use the astrological placement of the minor planet Chiron in your birth chart to identify the core wounds and unconscious patterns that block your capacity to have self-empathy and to forgive. Coining the phrase "Chiron Effect" to describe the magnetic pull that individuals have around specific areas of vulnerability, she explains how, like a raw nerve, the placement of Chiron describes what parts of our lives we might edit or hide for fear of being rejected as well as the areas of sensitivity where we are triggered. Offering a chart and online links to allow you to determine Chiron's placement in your chart, the author explains how Chiron affects you psychologically, emotionally, sexually, spiritually, socially, financially, and intellectually depending on the sign and house it falls within. She outlines how to begin healing your core wounds through empathy and self-forgiveness, providing several steps for each sign placement to shift self-destructive patterns and learn to protect yourself as well as powerful affirmations infused with Reiki healing energy to help you anchor a new belief system.

As Lisa Tahir reveals, once identified, your personal Chiron placement can become the source of your greatest healing and empowerment. By recognizing your core wounding and learning to offer yourself empathy and forgiveness, you can finally break free from suffering, end self-sabotage, and allow your life to unfold in a new way.
Praise For The Chiron Effect: Healing Our Core Wounds through Astrology, Empathy, and Self-Forgiveness…
"The Chiron Effect will be of interest to many and will greatly benefit readers."
— His Holiness the 14th Dalai Lama

"Lisa Tahir has beautifully laid out a new and highly effective pathway to healing core wounds. Her methods are brilliant. A gem of a book."
— Katherine Woodward Thomas, New York Times bestselling author of Conscious Uncoupling and Calling in

"Lisa Tahir brings astrological wisdom to life through reliable psychology. She speaks with honesty and passion, revealing traces of her own battle scars. Relatable, beautiful, and profound."
— Benjamin W. Decker, author of Practical Meditation for Beginners

"In her groundbreaking book, The Chiron Effect, Lisa Tahir skillfully accompanies readers on a powerful journey to heal our deepest wounds. By sharing her personal story--as well as effective methods to break old trauma-based patterns, harness our minds for positive change, and embody unconditional love--Lisa teaches us how to become the free and joyful people we were always meant to be."
— Myra Goodman, coauthor of Quest for Eternal Sunshine: A Holocaust Survivor's Journey from Dark

"As an astrologer I have always found Chiron to be both a key to understanding the wounds we repeat and the guide to living out our soul's purpose. There has never been, until now, a book that guides astrologers, healing practitioners, and readers alike to articulating that purpose. In The Chiron Effect, Tahir offers a brilliant synthesis of psychology and astrology, but most of all she offers hope for the healing of our souls."
— Mari Selby, author of Lightning Strikes Twice

"Lisa Tahir writes beautifully about the journey inward, where one can find their greatest power by having the courage and selfcompassion to heal their core wounds."
— Ora Nadrich, founder/president of the Institute for Transformational Thinking and author of Says Who

"This book is a tender, kind, and compassionate journey into how we heal our core wounds. It blends and weaves astrology with selfhelp healing, creating an integrated approach to the healing of the self. It is useful and timely."
— Ronald A. Alexander, Ph.D., author of Wise Mind, Open Mind

"Lisa Tahir integrates her deep understanding of personal transformation with a compassionate, insightful, and practical view of the meaning of astrological Chiron. This is a much-needed and powerful resource of healing tools for practitioners and laypeople alike."
— Patricia Maher, HMC, MSW, astrologer and homeopath

"With The Chiron Effect, Lisa Tahir presents a clear guide and gentle invitation to reveal and decode old, unhealthy patterns and apply the salve of empathy and forgiveness. Lisa remains approachable to the reader with her vulnerable and straightforward writing style. She illuminates a clear depth-process through which we may each awaken our beautiful inner healer and heal core wounding--a deep and accessible resource."
— Corey Folsom, relationship coach, Los Angeles, CA

"Tahir guides readers through their own personal transformations by using Reiki healing, destroying unhealthy patterns, as well as encouraging self-forgiveness and compassion."
— Conscious Community Magazine

"All in all, The Chiron Effect is a guide for spiritual development and transformation. Through acknowledging our pain, weaknesses, and wounding based on Chiron in one's astrology chart, Tahir teachers the reader that they can become their own healer. Filled with the love, faith, hope, and optimism that comes through Tahir's writing, readers will be able to see themselves with a bit more clarity and use this awareness to facilitate inner peace."
— Alanna Kali, Indie Mystic

"There are a number of things I like about this book. We will start with the clear Table of Contents, then the diagrams at the beginning of each Chiron-in-a-sign chapter summarizing the core wounds of that placement, ending these chapters with appropriate affirmations. Also of note are the always helpful index, bibliography and resources appendices."
— Lisa Mc Sherry, Facing North

"Chiron in astrology means "wounded healer" Author Tahir uses Chiron in "The Chiron Effect Healing Our Wounds through Astrology, Empathy and Self- Forgiveness" to help people with a number of negative aspects of their lives. She also utilizes principals of psychology and Eric Fromm as well as other modern-day techniques to achieve a perfect balanced life. So often books of this type have only concentrated on the Astrological aspect that appeal to a much slimer audience. By combing known aspects of treatments as well as telling personal stories "The Chiron Effect" is a valuable resource that appeals to a much larger group of people in need of help in this Covid time."
— Gary Roen, Midwest Book Review
Bear & Company, 9781591433958, 224pp.
Publication Date: November 17, 2020
About the Author
Lisa Tahir, LCSW, is a licensed clinical social worker. She is certified in EMDR Level I, in Reiki Level II, and as a thought coach through the Institute for Transformational Thinking. The host of the weekly podcast All Things Therapy on LA Talk Radio since 2016, she lives in both Los Angeles and New Orleans.