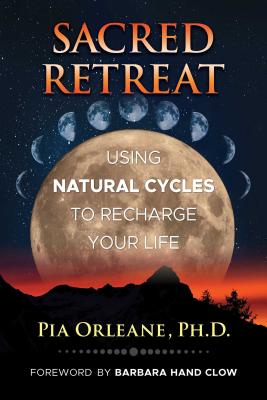 Sacred Retreat
Using Natural Cycles to Recharge Your Life
Paperback

* Individual store prices may vary.
Description
Restoring our biological cycles to heal ourselves, our culture, and our planet

• 2017 Nautilus Gold Award

• Shows how, just like the tides and the moon phases, both women and men have biological cycles of growth and renewal necessary for healthy bodies and minds

• Explains how the seclusion of women during menstruation and of men during vision quests offers a cleansing process for body and mind to awaken innate creativity and sensitivity, re-attune us with the deeper rhythms of the body and nature, and restore harmony between the divine feminine and divine masculine

• Reveals how the need for sacred retreat was forgotten when the divine feminine was suppressed by patriarchal culture

All of life is interwoven into a living system of cycles, from Earth's seasons to the enzymatic pathways that provide energy to a cell. Waxing and waning from times of growth to times of rest, renewal, and healing, cycles map the most auspicious time for everything in life. Both women and men have biological cycles of active growth and quiet renewal, led by our hormones. By understanding how everything in life moves in cycles, you can become more aware of and comfortable with your own cyclic nature, something that has been forgotten by the modern world's linear views of time.

Drawing on the wisdom of ancient cultures, the natural cycles of life, and her own groundbreaking research, Pia Orleane, Ph.D., offers a template for how we can restore balance to our emotions and health, ease tensions between the sexes, and heal our fractured culture by honoring divine feminine consciousness and re-embracing natural cycles, including our innate need for rest and retreat. She explains the biology of how our bodies operate by hormones released in cycles and shows how balanced hormones help eliminate anger, depression, insomnia, anxiety, and fatigue. Exploring ancient traditions and rituals surrounding blood and sacred retreat, she explains how the seclusion of women during menstruation and of men during vision quests offered a cleansing process for body and mind, alone time to clear suppressed emotions, awaken our innate creativity and sensitivity, re-attune us with the deeper rhythms of the body and nature, and restore harmony between the genders and balance between the divine feminine and masculine.

Outlining the sacred retreat process, the author explores dream cycles, divine sexuality, and practices for reconnecting to nature, increasing creativity and intuition, and clearing suppressed emotions. She also looks at the benefits for women and men of separate sleeping during menstruation. Through this wisdom, we can restore our natural cycles, allow the divine feminine to once again blossom alongside the divine masculine, and, with the return of balance, heal our world and our hearts.
Praise For Sacred Retreat: Using Natural Cycles to Recharge Your Life…
"The minute I started reading this book, I got chills. My body said a big 'yes' to this information. Yours will too! Every mother and every daughter should read this book."
— Christiane Northrup, M.D., author of Women's Bodies, Women's Wisdom

"We simply cannot secede from nature, and to believe otherwise is madness. Orleane shows how we can remain in nature's flow and reap the benefits that are a part of this inescapable oneness."
— Larry Dossey, M.D., New York Times bestselling author of One Mind

"This gentle, deeply reflective book offers us another way of seeing the world--through the eyes of feminine vision. With penetrating insight, it recovers for us a long lost wisdom and offers a template of how we might restore balance to our driven, radically unbalanced society and our stress-filled lives. Anyone reading Sacred Retreat will have their understanding of life deepened and enhanced, leading them into a more conscious way of living, a closer relationship with their body, and an interweaving of their life with the rhythms of the natural world, the planet, and beyond that, the cosmos. A hugely valuable book."
— Anne Baring, author of The Dream of the Cosmos

"Orleane's well-documented and well-written book is full of wisdom. An antidote for these fractured times, it is a call for us to return to the natural wisdom of our bodies, to reclaim our innate power, and to reconnect with the cycles of the natural world."
— Erica Elliott, M.D., physician, speaker, and coauthor of Prescriptions for a Healthy House

"Pia Orleane, Ph.D., is a talented researcher and writer with a feel for people and their lives. I strongly encourage you to consider her book. Here is a strong, unusual, and inspiring study valuable for many. Pia helps open magic to us."
— Ruth Richards, M.D., Ph.D., author of Everyday Creativity

"Sacred Retreat gets to the root of the current planetary crisis and how we can transform it. This book is an accessible and practical guide to bringing the feminine back online by starting with our own bodies and cycles. I immediately put the insights from this book into practice and felt richly rewarded with increased intuition and empowerment. Any woman or man who desires to realign with the rhythms of nature will receive great benefit from the practical wisdom offered here."
— Emily Trinkaus, author of Creating with the Cosmos

"Pia Orleane, Ph.D., writes with passion and conviction. Sacred Retreat is an antidote for the stress and depression so prevalent in today's tattered cultures."
— Stanley Krippner, Ph.D., coauthor of Extraordinary Dreams and How to Work with Them

"Every day we witness the great imbalance in the world that our current story and ways of living have brought us. This book offers an insightful guide on how humanity can return again to balance. Pia Orleane's book is a profound instruction manual."
— Marianne Marstrand, executive director of the Global Peace Initiative of Women

"Sacred Retreat is not only an important book, it is vital for humanity! Every mother should put this book in the hands of her sons and daughters. Every teacher should teach from this book in schools all over the world. And war would end. This is a vibrant book with important wisdom for both men and women. The divine feminine is sending the message to change NOW!!"
— Erika Mikaelsson, journalist and CEO of Nordic Light Media

"Pia Orleane, Ph.D., well deserves the accolades she has received for her original research, much of which is eloquently expressed in her unique comprehension of the natural cycles of life, especially as it relates to women and the reclamation of the divine feminine. This unique, informative, and process-oriented book is greatly needed to empower women and rebalance the current patriarchal dominance the world over."
— Nicki Scully, author of Sekhmet

"Throughout the world, there is a real problem with gender inequality and our relationship with Mother Earth. These are challenging times and we need people that can give us wisdom and hope in the struggle. Orleane does just this in her book Sacred Retreat. Everyone wishing for social change and peace in the world should read this excellent book."
— Roy Bourgeois, former Catholic priest and founder of School of the Americas Watch (SOA Watch)

"Pia Orleane has made an important contribution to the growing recognition of the importance of feminine values in our unbalanced society. This book provides a desperately needed corrective to our growing malaise and is well worth reading. It offers immediate practical and ultimately spiritual suggestions for both women and men."
— Gus diZerega, Ph.D., author of Pagans & Christians: The Personal Spiritual Experience

"An invaluable reminder to get our lives back in sync with the undeniable wisdom of Nature--including our own physiological, emotional, and spiritual rhythms and synchronicity with all beings with whom we share and co-create our world."
— Adam Gainsburg, author of Sacred Marriage Astrology and founder of Soulsign.com

"The power of Orleane's writing has far-reaching implications as modern women continue their ancient Earth cycles during these tumultuous times. In a readable and completely fascinating way, we are brought to reconfirming ourselves as vessels of wonder and awe."
— Emilie Conrad, founder of Continuum Movement and author of Life on Land

"This rich, timely work clearly rises from the depths of a woman's soul. It is, indeed, an invitation into life's mystery. This work is a 'must' for all those who seek the healing of the human condition."
— Kenneth Hamilton, M.D., author of SoulCircling
Bear & Company, 9781591437918, 240pp.
Publication Date: September 12, 2017
About the Author
Pia Orleane, Ph.D., is an author, lecturer, and former practicing psychologist. The recipient of an international award from Saybrook University for her research on the importance of natural cycles for life, she travels the world giving talks on the value of the divine feminine and natural cycles. She lives in Europe.

Barbara Hand Clow is an internationally acclaimed ceremonial teacher, author, and Mayan Calendar researcher. Her numerous books include The Pleiadian Agenda, Alchemy of Nine Dimensions, Awakening the Planetary Mind, Astrology and the Rising of Kundalini, and The Mayan Code. She has taught at sacred sites throughout the world and maintains an astrological web site, www.HandClow2012.com
or
Not Currently Available for Direct Purchase