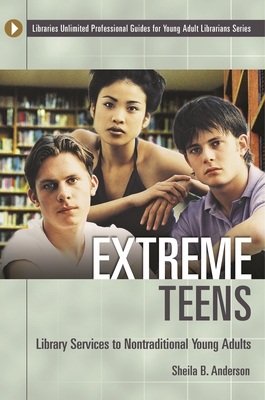 Extreme Teens
Library Services to Nontraditional Young Adults (Libraries Unlimited Professional Guides for Young Adult Librarians)
Paperback

* Individual store prices may vary.
Description
It's easy to make assumptions about teens--high school, dating, Mom and Dad in the background, a house, a few siblings, and a beloved pet. But many of today's teens don't fit this all-American image. Designing teen library services based on preconceptions leaves many teens out--from home-schooled and gifted teens to pregnant teens, immigrants, juvenile delinquents, homeless teens, and many others. Anderson, a YALSA Serving the Underserved (SUS) Trainer, shatters the stereotypes, showing you how to customize your library service to fit the needs of diverse teens. After explaining why it's important to reach out to these kids, and contrasting the myths about teens with the realities, Anderson details the diverse groups that make up the category of teen, and the many situations and experiences that define their library needs. She provides step-by-step plans for connecting with these young adults--from creating a positive atmosphere through policies and staff training to building a collection, designing library services and programs, and providing outreach. Interspersed with anecdotes, pertinent statistics, and useful information, this practical work will change the way you think about and work with teens. Grades 6-12.
Libraries Unlimited, 9781591581703, 175pp.
Publication Date: October 30, 2005
About the Author
Sheila B. Anderson is Director of the Dover Public Library in Delaware and editor of Serving Older Teens (Libraries Unlimited, 2003). She has served on the YALSA Board of Directors, the Selected DVDs and Videos for Young Adults Committee, the Professional Development Committee, and the Best of the Best Books for Young Adults Preconference Committee. She is also a YALSA Serving the Underserved (SUS) Trainer. The recipient of the France Henne/YALSA/VOYA Research Grant and the Baker & Taylor/YALSA Conference Grant, Anderson maintains a Web site at www.sheilabanderson.com.