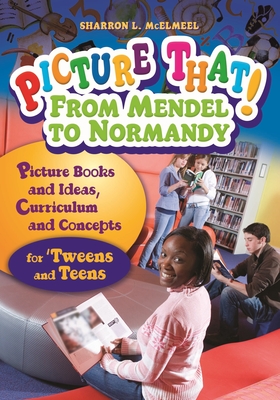 Picture That! from Mendel to Normandy
Picture Books and Ideas, Curriculum and Connectionsâ for 'tweens and Teens
Paperback

* Individual store prices may vary.
Description
Make connections to Gregor Mendel's work with genetics, the journey of 100 orphans from the Normandy battlefields, diverse cultures, and much more. This book, by celebrated author and teacher Sharron L. McElmeel, offers practical resources for promoting curiosity and involving learners of all ages in critical thinking.
Picture books can provide a short and focused stimulant to promote discussion and further investigation into topics as diverse as mathematical concepts, science topics, geography (landform and locations for example), and language arts skills. At the same time, personal narratives offer a glimpse into the human factors present during various periods of history. Picture That From Mendel to Normandy: Curriculum and Connections--for 'Tweens and Teens is an invaluable resource with many suggestions and with space for recording connecting ideas and strategies to infuse literacy into every area of the curriculum--in classrooms and libraries--with older readers.
Grades 4-12
Libraries Unlimited, 9781591585886, 241pp.
Publication Date: May 1, 2009
About the Author
Sharron L. McElmeel is an author and educational consultant and an instructor of children's and young adult literature at University of Wisconsin-Stout, WI. She has written over 35 books in the educational field, including Libraries Unlimited's Authors in the Pantry: Recipes, Stories, and More and Authors in the Kitchen: Recipes, Stories, and More.