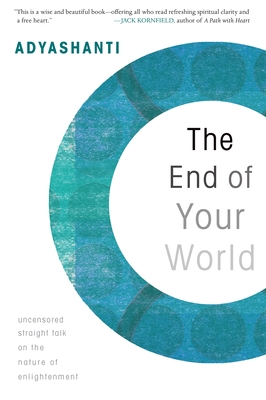 The End of Your World
Uncensored Straight Talk on the Nature of Enlightenment
Paperback

* Individual store prices may vary.
Description
More and more people are waking up spiritually. And for most of them, the question becomes: Now what? "Information about life after awakening is usually not made public," explains Adyashanti. "It's most often shared only between teachers and their students." The End of Your World is his response to a growing need for direction on the spiritual path. Consider this Adyashanti's personal welcome to "a new world, a state of oneness."

Adyashanti begins by describing the "I got it/I lost it" phenomenon that perplexes so many of his students—the fluctuation between what he calls "nonabiding" awakening, and the ultimate state of "abiding" enlightenment. With straight talk and penetrating insight, Adyashanti then points out the pitfalls and cul-de-sacs that "un-enlighten" us along the journey, including the trap of meaninglessness, how the ego can "co-opt" realization for its own purposes, the illusion of superiority that may accompany intense spiritual breakthroughs, and the danger of becoming "drunk on emptiness."

"Full awakening comes when you sincerely look at yourself, deeper than you've imagined, and question everything," teaches Adyashanti. The End of Your World is your invitation to join Adyashanti for an honest investigation of what you really are—and how to live once you discover it.
Praise For The End of Your World: Uncensored Straight Talk on the Nature of Enlightenment…
"This is a wise and beautiful book- offering all who read refreshing spiritual clarity and a free heart." —Jack Kornfield author of A Path with Heart

"A powerful and profoundly affecting book by one of the premier spiritual teachers of our time." —Reginald A. Ray author of Touching Enlightenment
Sounds True, 9781591797791, 240pp.
Publication Date: June 1, 2010
About the Author
Adyashanti is an American-born spiritual teacher devoted to serving the awakening of all beings. His teachings are an open invitation to stop, inquire, and recognize what is true and liberating at the core of all existence. His books include Emptiness Dancing, The End of Your World, True Meditation, The Way of Liberation, and Falling into Grace.

Asked to teach in 1996 by his Zen teacher of 14 years, Adyashanti offers teachings that are free of any tradition or ideology. "The Truth I point to is not confined within any religious point of view, belief system, or doctrine, but is open to all and found within all." For more information, please visit adyashanti.org.