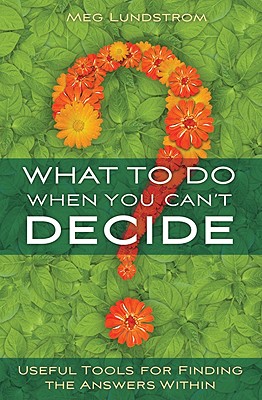 What to Do When You Can't Decide (Paperback)
Useful Tools for Finding the Answers Within
Sounds True, 9781591798163, 307pp.
Publication Date: June 1, 2010
* Individual store prices may vary.
Description
You're at a fork in the road. Now what? It may surprise you, but according to Meg Lundstrom, you already have the answer, if you just know how to tap your inner-guidance system. With
What to Do When You Can't Decide,
she teaches us three effective divining tools for accessing our innate wisdom:
"Pendling," a method that uses a handheld instrument "The Chits," an easy pen-and-paper technique "Muscle testing," an on-the-spot technique that allows your fingers to "do the talking"
Bypassing the conscious mind to access your deeper subconscious intelligence, these techniques can help you make reliable decisions, end second-guessing, and enhance the flow in your life. Includes practical exercises, a troubleshooting guide, and advanced techniques for deciding what to do in any situation.
About the Author
Meg LundstromMeg Lundstrom is an author and magazine writer who has written for Redbook, BusinessWeek, and Woman's World on self-development, health, entrepreneurship, and the human search for meaning. She discovered divining more than 20 years ago on a trip to India and since then it's become a potent spiritual path--one that has led her to a trip to Tibet and in turn, to co-authoring The Power of Flow, a book about synchronicity that has been published in 10 languages. She divides her time between the Catskills, Big Sur, and South India.
or
Not Currently Available for Direct Purchase