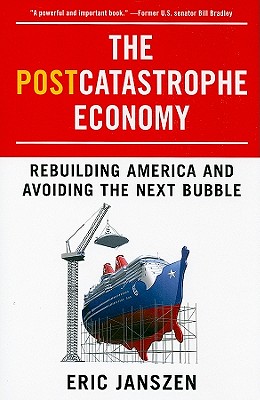 The Postcatastrophe Economy (Hardcover)
Rebuilding America and Avoiding the Next Bubble
Portfolio Hardcover, 9781591842637, 224pp.
Publication Date: September 2, 2010
Other Editions of This Title:
Digital Audiobook (9/1/2010)
Compact Disc (9/2/2010)
MP3 CD (9/2/2010)
Compact Disc (9/2/2010)
* Individual store prices may vary.
Description
How government and business can work together to secure our economic future.
The 2008 crisis was just the beginning; according to sought-after analyst Eric Janszen, an even bigger financial catastrophe is imminent. Inclined to disbelieve him? He predicted the last two busts months before they happened.
Our problems, according to Janszen, are rooted in the flaws of the debt-driven FIRE economy (Finance, Insurance, and Real Estate). Applying the tried-andtrue methods of currency depreciation, tax and interest rate cuts, and fiscal stimulus will not work this time around. The only way out is to change our fundamental approach.
The solution is to use private and public monies to develop major for- profit transportation, energy, and communications infrastructure projects. These projects will spark employment and growth, reduce U.S. dependence on foreign energy and our foreign debt, and improve the efficiency of the economy for all growth industries in the twenty-first century.
This thought-provoking book offers solutions for a more sustainable and stable economic future.
Praise For The Postcatastrophe Economy: Rebuilding America and Avoiding the Next Bubble…
Early Praise: "Janszen's done it again! Recent books on investing rehash the drama of Wall Street's mega-meltdown, shadowy derivatives, subprime mortgages scam, and too- big-to-fail banks. But that's old news. The Great Recession is over. Investors need to know what's next, and how to invest successfully for the future."
-Paul B. Farrell, columnist and author of The Lazy Person's Guide to Investing

"Eric Janszen has written a powerful and important book about how we can build an American economy in which 'finance once again serves the productive economy instead of rules it.' He describes the job-creating industries of the next ten years and what we have to do to make them thrive."
-Former U.S. Senator Bill Bradley

"There are many who offer a view of what is going to happen to the economy in the future, but few that do so with a strong foundation in financial history and even fewer that have a track record of being correct. Janszen's book is a must- read for any serious investor."
-Weston M. Hicks, President and CEO, Alleghany Corporation

"Janszen provides an unmatched and essential perspective on the financial system's complexities and offers long-term solutions for today's challenges. It's our job to prudently align large pools of capital with secular trends; we have come across no better roadmap than The Postcatastrophe Economy."
-Paul & Wesley Karger, Managing Partners, TwinFocus Capital Partners

"An outstanding read. Eric Janszen's prescription for a more fundamentally sound energy policy is especially perceptive. Janszen's book addresses not only what needs to be done, but the proper roles of government and private interests in securing the real transformative change our economy needs."
-Joe Petrowski, CEO, Gulf Oil

"Can America's economic potential be reached in the face of the debt deflation that Janszen describes? This book describes the financial lobbying and political interests that need to be dismantled for the economy to revive."
-Michael Hudson, Distinguished Research Professor of Economics at University of Missouri, Kansas City

"We need to know where we will be when we get out of this mess, and the Fed's combination of nostalgia, raw hope, and guesswork does not give much guidance. Eric Janszen, seeking scope and depth, contributes significantly to the next, necessary debate."
-Martin Mayer, Brookings Institute Guest Scholar and author of The Fed and the Markets

"Eric has written a book suggesting how we can avoid the worst consequences of our folly as Americans struggle to pay down debt in a damaged economy. If we follow his advice, we may find alternative energy resources and increase productivity in time to become self-sustaining before the United States creates a new financial crisis that will make the current one look like a business boom."
-Janet Tavakoli, president, Tavakoli Structured Finance, and author of Dear Mr. Buffett

"Eric Janszen reinforces the need to look for entrepreneurs to create new companies and new jobs, not to simply expect government economic policy to do so, and this is an all too rare perspective. Refreshing and cogent."
-Bart Stuck, Managing Director of Signal Lake Venture Partners

"Unlike the many 'told you so' books of the past year, Eric Janszen takes a hard look at the foundations of the Great Recession of 2009, explaining why gold prices rose, why the U.S. dollar is safer than we think, and why houses make terrible investments. And rather than suggesting another round of post-hoc regulation, Janszen points the way towards a sustainable future in infrastructure investment. Janszen has the goods."
-Scott Reynolds Nelson, Legum Professor of History, College of William & Mary, author of Crash: An Uncommon History of America's Financial Disasters

"Eric Janszen gives us an eloquent and straightforward analysis of the serious challenges that face the United States today, and a prescription for how America can return to a position of greatness from an author who is optimistic and confident of the resilience and entrepreneurial spirit of the American people."
-Jim Goldinger, founder, Fairhaven Capital Partners
or
Not Currently Available for Direct Purchase