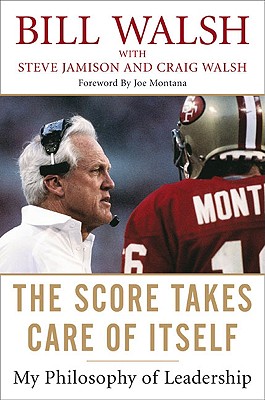 The Score Takes Care of Itself
My Philosophy of Leadership
Hardcover

* Individual store prices may vary.
Other Editions of This Title:
Paperback (6/29/2010)
Compact Disc (9/3/2009)
MP3 CD (9/3/2009)
Compact Disc (9/3/2009)
Description
"Even when you have an organization brimming with talent, victory is not always under your control. There is no guarantee, no ultimate formula for success. It all comes down to intelligently and relentlessly seeking solutions that will increase your chance of prevailing. When you do that, the score will take care of itself." (Bill Walsh)

Bill Walsh is a towering figure in the history of the NFL. His advanced leadership transformed the San Francisco 49ers from the worst franchise in sports to a legendary dynasty that won three Super Bowls. In the process, he changed the way football is played-pushing it into the twenty-first century.

Walsh is famous for his strategic brilliance and innovations, such as the West Coast Offense, but his enlightened philosophy of leadership was just as crucial, if not more so, to the unprecedented success of his teams. And that philosophy of leadership is just as powerful and productive in business or any other endeavor as it was for him on the football field.

Prior to his death, Walsh granted exclusive interviews to bestselling author Steve Jamison. They became his ultimate lecture on leadership-illustrated by dramatic and apt anecdotes from throughout Walsh's career. A small sample of what you'll learn from one of America's greatest coaches:

* Believe in People: Push them hard to be their very best. No one will ever come back later and thank you for expecting too little of them.
* Professionalism Matters: There was no showboating allowed after touchdowns, no taunting of opponents, no demonstration to attract attention to oneself: "Champions act like champions before they're champions."
* Keep a Short Enemies List: One enemy can do more damage than the good done by a hundred friends.
* Protect Your Blind Side: Prompt yourself to aggressively analyze not only your organization's strengths, but also its unseen vulnerabilities.
* Sometimes You Can't Have he Last Word. A leader cannot escape harsh criticism. Ignore the undeserving; learn from the deserving. Lick your wounds and move on. Your bruised ego will get over it.

Additional insights and perspective are provided by his son Craig Walsh, by legendary quarterback Joe Montana, and by other important figures who knew Bill well.

Bill Walsh taught that the requirements of successful leadership are the same whether you run an NFL franchise, a Fortune 500 company, or a hardware store with twelve employees. His final words of wisdom will inspire and enlighten readers in all walks of life.
Praise For The Score Takes Care of Itself: My Philosophy of Leadership…
"Bill Walsh was one of the NFL's all-time best; a creative genius, a master at management, and a brilliant student of human nature. The Score Takes Care of Itself is his own personal and powerful road map to success as a leader whether in professional football or anywhere else. Terrific reading; tremendous insights."
-Roger Goodell, commissioner of the NFL

"The Score Takes Care of Itself is a leadership classic-a magnificent step-by-step tutorial on how to achieve success. It is practical, profound, and perfect for today's ultracompetitive business environment. Indispensable reading."
-Pat Williams, senior vice president of the Orlando Magic and author of What Are You Living For?

"The Score Takes Care of Itself is not about football. It's about how to treat people right. How to get the best out of the people around you. How to be a highly effective leader. I am thankful that this book about Bill Walsh's leadership point of view is now available to inspire countless leaders to come."
-Ken Blanchard, coauthor of The One Minute Manager(r) and Leading at a Higher Level

"Bill's personal examples of how he implemented and executed each of these steps in the transformation of the San Francisco 49ers creates a fascinating story of business, football, and triumph. More than anything, Bill's story reminds business leaders that success is not accidental but rather the result of deliberate and tenacious preparation."
-John F. Milligan, Ph.D., president and COO of Gilead Sciences, Inc.
Portfolio Hardcover, 9781591842668, 288pp.
Publication Date: August 20, 2009
or
Not Currently Available for Direct Purchase