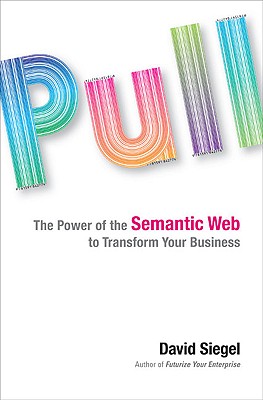 Pull
The Power of the Semantic Web to Transform Your Business
Hardcover

* Individual store prices may vary.
Description
The first clear guide to the Semantic Web and its upcoming impact on the business world

Imagine that, in 1992, someone handed you a book about the future of something called the World Wide Web. This book claimed that through a piece of software called a "browser", which accesses "web sites", the world economy and our daily lives would change forever. Would you have believed even 10 percent of that book? Did you take advantage of the first Internet wave and get ahead of the curve?

Pull is the blueprint to the next disruptive wave. Some call it Web 3.0; others call it the semantic web. It's a fundamental transition from pushing information to pulling, using a new way of thinking and collaborating online. Using the principles of this book, you will slash 5-20 percent off your bottom line, make your customers happier, accelerate your industry, and prepare your company for the twenty-first century. It isn't going to be easy, and you don't have any choice. By 2015, your company will be more agile and your processes more flexible than you ever thought possible.

The semantic web leads to possibilities straight from science fiction, such as buildings that can order their own supplies, eliminating the IRS, and lawyers finally making sense. But it also leads to major changes in every field, from shipping and retail distribution to health care and financial reporting.

Through clear examples, case studies, principles, and scenarios, business strategist David Siegel takes you on a tour of this new world. You'll learn:

-Which industries are already ahead.
-Which industries are already dead.
-How to make the power shift from pushing to pulling information.
-How software, hardware, media, and marketing will all change.
-How to plan your own strategy for embracing the semantic web.

We are at the beginning of a new technology curve that will affect all areas of business. Right now, you have a choice. You can decide to start preparing for the exciting opportunities that lay ahead or you can leave this book on the shelf and get left in the dust like last time.
Praise For Pull: The Power of the Semantic Web to Transform Your Business…
"A seminal work on the semantic movement and what it means for business."
-John Doerr, partner, KPCB

"David Siegel lays out in simple terms the architecture of a revolution that will change all businesses. I recommend it for managers and entrepreneurs who want to get ahead of the next wave."
-Jay Walker, founder, Priceline.com

"There are at least ten killer business ideas in here."
-Vinod Khosla, Khosla Ventures

"Most companies are not prepared for the Semantic Web. Siegel offers visionary yet practical advice for understanding what it is and how to build a business case going forward. It's time for managers to learns what's coming and how to respond. Leave this book on the shelf at your own peril."
-Dan Farberm, editor in chief, CNET News

"Twenty books will be written on top of this book. It's not science fiction, it's a road map to the future."
-Mills Davis, founder, Project10x.com

"This stuff is disruptive. It reminds me of The Road Ahead back in 1999--a set of useful predictions for what's coming, and it's already well under way."
-Joe Britt, Founder of Danger, a subsidiary of Microsoft

"Siegel shows us the highly compelling services and startups that emerge as web servers start to share information among one another."
-David Cowan, Bessemer Venture Partners
Portfolio Hardcover, 9781591842774, 288pp.
Publication Date: December 31, 2009
or
Not Currently Available for Direct Purchase