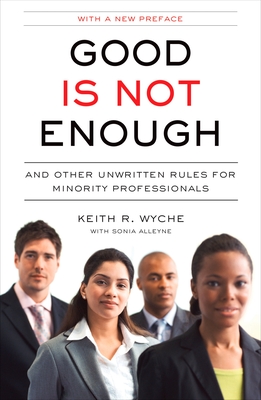 Good Is Not Enough (Paperback)
And Other Unwritten Rules for Minority Professionals
Portfolio, 9781591842910, 256pp.
Publication Date: September 29, 2009
* Individual store prices may vary.
Description
A no-nonsense guide for minorities in business who want to make it to senior management
In recent decades, corporate America has gotten better at recruiting minority talent. But despite their education and hard work, too many African Americans, Latinos, and Asian Americans still find unique obstacles on the path to senior management. And there are too few minority mentors available to help them understand and overcome these challenges.
Keith R. Wyche, a division president at a Fortune 500 company, is the perfect mentor for ambitious minority businesspeople at all levels. His book is filled with thought-provoking insights and practical advice based on his own experiences and those of the many people he has counseled. He discusses the importance of:
Understanding corporate culture—and the impact it has on your career
Being visible—because you can't get ahead if nobody knows who you are
Staying current—why minorities must be continuous learners
Good Is Not Enough
also includes anecdotes from prominent CEOs such as Ken Chenault of American Express, Richard Parsons of Time Warner, and Alwyn Lewis of Kmart.
About the Author
Keith R. Wyche is the president of U.S. operations for Pitney Bowes Management Services (a division of Pitney Bowes Inc.) and a twenty-fiveyear veteran of Ameritech, AT&T, IBM, and other companies. He is a popular speaker with minority business groups and has been recognized for his achievements by Black Enterprise, Ebony, Crain's Business, and Diversity Inc. magazines.