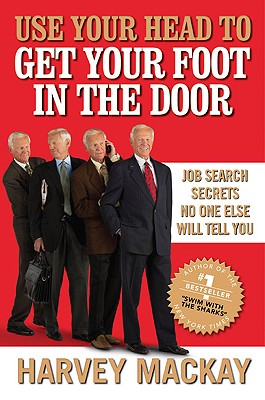 Use Your Head to Get Your Foot in the Door: Job Search Secrets No One Else Will Tell You (Hardcover)
Job Search Secrets No One Else Will Tell You
Portfolio Hardcover, 9781591843214, 352pp.
Publication Date: February 18, 2010
* Individual store prices may vary.
or
Not Currently Available for Direct Purchase
Description
"New York Times, Wall Street Journal," and "USA Today" bestseller
"You can have the finest moves in the talent contest, you can boast a trophy speed-dial list on your iPhone, you can possess the single-mindedness of Paul Revere and be as self-assured as Muhammad Ali . . . and you still won't nail the job unless you know how to mold and merchandise your personal pitch. If this is true when times are booming-and it is-you can only imagine how true it is in times like these."
Harvey Mackay, "Fortune" magazine's "Mr. Make- Things-Happen," has written five "New York Times" bestsellers, including one of the most popular business books of all time-"Swim with the Sharks Without Being Eaten Alive." Now he returns with the ultimate book on how to get, and keep, a job you truly love whether you're twenty-one, fifty-one, or seventy-one.
The average person will have at least three career changes and ten different jobs by age thirty-eight. In this era of downsizing and outsourcing, you can never be sure your job will still exist in five years- or five weeks. So you'd better think of your career as a perpetual job search. That demands a passion for lifetime learning and the skills for relentless and effective networking.
Mackay shows you how to be at your best when things are at their worst. His hard-hitting topics include:
- beating rejection before it beats you
- warning signals that you might be losing your job
- acing interviews
- negotiating the job you want not the job they offer
- taking advantage of the way bosses make hiring decisions
- blending the latest contact tools with old-fashioned face-to-face networking
Uplifting, amusing, and jam-packed with proven tips, "Use Your Head to Get Your Foot in the Door" will guide you through the toughest job market in decades. It's also the definitive A-to-Z career resource for the rest of your life.
About the Author
Harvey Mackay is the author of five "New York Times "bestsellers (three of which went to #1), including "Swim with the Sharks Without Being Eaten Alive. The New York Times "also named "Swim with the Sharks "and "Beware the Naked Man Who Offers You His Shirt "as two of the fifteen most inspirational business books of all time. His books have sold more than ten million copies worldwide and have been translated into thirty-seven languages and distributed in eighty countries.Mackay is also a nationally syndicated columnist for United Features Syndicate and one of America s most popular and entertaining business speakers. He s been named one of the top five speakers in the world by Toastmasters International.Mackay is chairman of MackayMitchell Envelope Company, a $100 million company he founded at age twenty-six.He has been married to his wife, Carol Ann, for forty-nine years. They have three children and nine grandchildren. "
Praise For Use Your Head to Get Your Foot in the Door: Job Search Secrets No One Else Will Tell You…
"This collection of job search tips by Mackay (Swim with the Sharks Without Being Eaten Alive) follows the style of his previous best sellers, complete with humorous examples and "Quickie" one-page stories that illustrate his main points. Don't let the cover or any worry about his sense of humor dissuade you: this is a very useful book. The short chapters with descriptive titles make it easy to navigate, and Mackay offers tips-from changing your attitude to getting hired-both for those currently employed but wishing to position themselves better in their current companies and for those who are out of work. Highly recommended for job seekers and career changers at all experience levels."
-Library Journal

"If you want the worm, be an early bird. But if you want the job, be one of the later birds interviewed for it. Harvey Mackay, a corporate executive, syndicated columnist and bestselling author, dispenses that seemingly counterintuitive advice along with scores of other useful and delectable morsels of wisdom for job seekers and ladder climbers. Mackay points out that with most job openings, the specs are usually vague at first, and they are refined as candidates are interviewed. "You don't want to be the test dummy, smashed into a wall, so the company can design a better set of wheels for someone else," Mackay writes. He suggests finding out how many candidates have already been interviewed and making excuses to avoid being among the first or doing something to make the interviewer remember you if you can't avoid being an early bird. The general thrust of this highly readable book is that in today's world of accelerated technological change, people must think of their career as a continual job search that requires ongoing upgrading of knowledge and skills and unceasing networking. Using real-life examples from his experience as an interviewer, Mackay provides expert guidance on how to behave during an interview, including both how to answer questions and what kind of questions to ask."
- Nationally Syndicated Columnist Cecil Johnson

"Harvey Mackay hits the bull's-eye. An important book for important times in our lives. The Shark Man at his very best."
-Larry King

"Harvey Mackay knows how important the mental game is. Use Your Head to Get Your Foot in the Door helps you form a good game plan, execute it, and win."
-Shaquille O'Neal

"Harvey Mackay was born to write this book. I have seen him use his head to open a million doors, and drawing on his amazing experiences, he shares invaluable advice. Harvey gets it. Without question, I know he can help every reader with this masterpiece."
-Lou Holtz

"Remember, you can't simply read this book! You have to study it, underline it, highlight it, and take notes. If you do not have a job after six months, I will refund your purchase price." (See inside the book for details.)
-Harvey Mackay
Advertisement