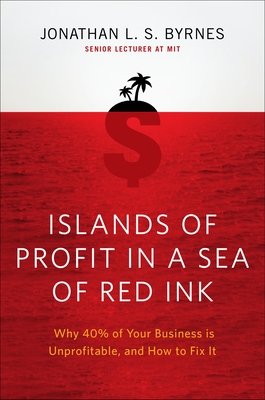 Islands of Profit in a Sea of Red Ink
Why 40 Percent of Your Business Is Unprofitable and How to Fix It
Hardcover

* Individual store prices may vary.
Other Editions of This Title:
Compact Disc (9/13/2010)
MP3 CD (9/13/2010)
Compact Disc (9/13/2010)
Description
Top companies around the world turn to MIT's Jonathan Byrnes to figure out where the profit is. Using his systematic process for analyzing profitability, they can quickly determine which parts of the business are worth expanding and which are just a drain on resources. Then, using Byrnes's "profit levers," they can turn unprofitable business into good business and good business into great business.

We now live in the Age of Precision Markets, yet most of the management processes taught in business schools were developed for the prior Age of Mass Markets. Today's savviest managers are exploiting this disconnect. They're rethinking strategy, customer relations, operations, and metrics, and overcoming internal resistance to constructive change. They also reject such harmful myths as:

* Revenues are good, costs are bad

* All customers should get the same great service

* If everyone does his or her job well, the company will prosper

Byrnes reveals an uncomfortable truth: It's possible, even easy, for everyone to meet or exceed their budget targets and for the company still to have an enormous portion of the business unprofitable by any measure. But profit levers can flip everything around. For instance, several leading companies have utilized profit levers to increase their sales by over 35 percent in their highest penetrated customers, while others have reduced their operating costs- and their customers' costs-by over 30 percent One company described in the book raised its net profits by over 50 percent in a three-year period. The book is a practical, step-by-step guide to achieving these results.

Every business has enormous potential waiting to be unleashed; this book offers bold new strategies to help you find and grow those islands of profit.
Praise For Islands of Profit in a Sea of Red Ink: Why 40 Percent of Your Business Is Unprofitable and How to Fix It…
"Jonathan's rare combination of academic's insight and practitioner's experience has enabled him to create a series of important business innovations that have really worked."
- Roy Shapiro, Philip Caldwell Professor of Business Administration and former senior associate dean, Harvard Business School

"This is a comprehensive guide to improving your company's profitability. Every manager in your company should read it."
- Vijay Govindarajan, Earl C. Daum 1924 Professor of International Business, Tuck School of Business, and coauthor of The Other Side of Innovation

"Jonathan Byrnes delivers great news for managers: There is plenty of profit hidden in your company-if you know where to find it."
- Sean Silverthorne, editor of Harvard Business School Working Knowledge

"Jonathan Byrnes has created a systematic process for analyzing profitability. His research offers practical advice that will help organizations unlock their profit potential without costly new initiatives. Companies interested in making more money from their existing operations will benefit from his insights."
- Ron Sargent, CEO, Staples

"Jonathan has provided very important thought leadership that has helped shape my view of business and the development of Accenture's business consulting practice. This book is a must-read and belongs on every manager's desk."
- Bill Copacino, president and CEO, Oco, Inc., and former group chief executive, Accenture's Business Consulting Practice

"Every level of your organization will benefit from Jonathan Byrnes's pragmatic approach to enhancing profitability. From strategic planning to program implementation, this book will outline the path to an improved bottom line."
- Mark Rosenbaum, chief customer officer, Cardinal Health

"Jonathan outlines simple, effective guidelines for identifying and growing profitable business. He clearly describes the need to honestly evaluate the places where it's just not working, and to take corrective action. His recommendations are practical and tested, and they deliver positive results."
- Oscar Munoz, EVP and CFO, CSX
Portfolio, 9781591843498, 304pp.
Publication Date: October 14, 2010
About the Author
Jonathan L. S. Byrnes is a Senior Lecturer at MIT.  Byrnes is a leading authority on profitability management. He has worked in the healthcare, transportation, software, retail, financial services, and distribution industries. As the president of Jonathan Byrnes & Co., he has successfully advised over fifty companies.  Dr. Byrnes earned a DBA from Harvard. Please visit www.islandsofprofit.com for more information.
or
Not Currently Available for Direct Purchase