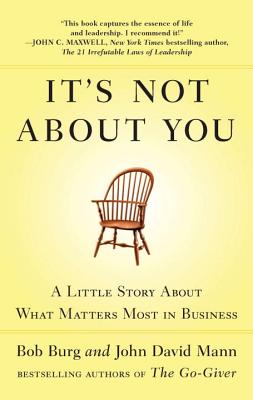 It's Not about You: A Little Story about What Matters Most in Business (Hardcover)
A Little Story about What Matters Most in Business
Portfolio, 9781591844198, 144pp.
Publication Date: September 20, 2011
Description
Please note that IT'S NOT ABOUT YOU has been revised and republished with a new title, THE GO-GIVER LEADER (ISBN: 9780399562945). We encourage you to search for THE GO-GIVER LEADER instead of the old edition.

About the Author
Bob Burg and John David Mann are the coauthors of The Go-Giver and Go-Givers Sell More. A former top sales professional, Burg is a sought-after speaker and the author of Endless Referrals. Mann has been writing about business, leadership and the laws of success for more than twenty-five years. Visit thegogiver.com.
Praise For It's Not about You: A Little Story about What Matters Most in Business…
"Lighter and more readable than many business books, with accessible language and universally applicable lessons."
-Kirkus Reviews

"This book captures the essence of life and leadership. I recommend it!"
-John C. Maxwell, author of The 21 Irrefutable Laws of Leadership

"At Zappos, part of my role is about helping to create an environment where employees feel empowered to come up with their own ideas for fulfilling our vision and growing our culture. It's Not About You reveals this same philosophy: Get out of the way, so your employees can lead the way."
-Tony Hsieh, author of Delivering Happiness and CEO of Zappos.com

"Burg and Mann have, once again, masterfully employed common sense and good judgment to show that success happens when you have an egalitarian spirit, practice Golden Rule behavior every day, and empower your people to make decisions from their hearts and souls. I LUV this book."
-Colleen Barrett, President Emerita of Southwest Airlines

"It really isn't about you. It's about your team, your customers, your community, and your legacy. Share this book with those you care about."
-Seth Godin, author of Linchpin

"A manifesto for twenty-first-century leadership packaged in a fun and engaging story. Buy this book and get it in the hands of everyone in your company!"
-Darren Hardy, publisher of Success magazine, author ofThe Compound Effect

"Bob Burg and John David Mann are wonderful storytellers, particularly when it concerns what matters most in business. It's Not About You is about anyone who wants to be successful and respected. This story has a lesson for everyone."
-Harvey Mackay, author of Swim With the Sharks

"I'm not typically a fan of business books written in fictional formats, but I love this book. It explains leadership principles I care about deeply, principles that truly matter. Read this book. You'll enjoy the journey and become a better leader and a better person in the process."
-Mark Sanborn, author of The Fred Factor
Advertisement