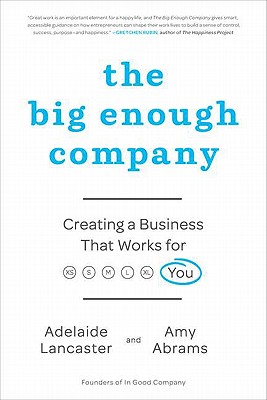 The Big Enough Company (Hardcover)
Creating a Business That Works for You
Portfolio Hardcover, 9781591844211, 288pp.
Publication Date: September 15, 2011
* Individual store prices may vary.
Description
All entrepreneurs start their companies because they think it will give them freedom-freedom to work on their own terms, be their own bosses, and create a company that meets their needs. But so often the opposite happens, and they end up encumbered by businesses that bear little to no resemblance to those they had envisioned. They wind up working for their companies, but their companies don't work for them.
Despite the freedom that striking out on your own promises, most of the accepted wisdom on how to build a small business advocates a one- size-fits-all approach. So-called experts-and sometimes just well-meaning friends-urge business owners to grow fast, be more profitable, and imitate other successful start-ups. And while these tips may work for some, they fail to consider the astounding variety of values and motivations that individuals have for starting a business. Too often, owners sacrifice their personal satisfaction in order to conform to unnecessary (and often unworkable) standards.
Adelaide Lancaster and Amy Abrams have seen this problem for years when working with women entrepreneurs like themselves. They set out to explore how successful female business owners have grown their enterprises in a way that sustains their own personal goals and needs, not someone else's standards.
Drawing on the true stories of nearly 100 entrepreneurs, as well as their own experiences, Abrams and Lancaster guide readers through the best principles that really matter when you work for yourself. For instance: Figure out what's in it for "you" Clarify why you started your business and what you want to get out of it over the long haul. Find a role that suits your strengths: Identify where you add the most value and can have the most impact. Embrace experimentation: Trying new things gives you the opportunity to see what works and what doesn't and opens up unseen possibilities.
This book empowers entrepreneurs to ignore popular "wisdom" and peer pressure to take charge of their businesses in a way that will help them succeed on their own terms.
About the Author
Amy Abrams and Adelaide Lancaster are the founders of In Good Company, a collaborative workspace for women business owners in New York City. In addition to their entrepreneurial ventures, they also work as consultants and career advisers, and their work has been featured in "The New York Times" and on MSNBC. Visit ingoodcompany.com.
Praise For The Big Enough Company: Creating a Business That Works for You…
"Great work is an important element for a happy life, and The Big Enough Company gives smart, accessible guidance on how entrepreneurs can shape their work lives to build a sense of control, success, purpose—and happiness."—GRETCHEN RUBIN, author of The Happiness Project "T he Big Enough Company is loaded with invaluable tips, sound advice, hard-earned lessons, inspiring stories, and cautionary tales for women seeking to build a business they will love—and for men who want to know what's missing from traditional approaches to entrepreneurship. In the land of business books,it's a breath of fresh air."—BO BURLINGHAM, author of Small Giants " I wish I'd had this book when I first became an 'auntrepreneur'! What a bevy of inspiration this book is. It goes straight to the top of my list of recommendations for any woman ready to live her dream by starting her own business—of any size."—MELANIE NOTKIN, author of Savvy Auntie: The Ultimate Guide for Cool Aunts, Great-Aunts, Godmothers, and All Women Who Love Kids " In a day and age when too many so-called experts tout hyperinflated 'success' tips and 'guaranteed' growth strategies ad nauseam, this book serves as both a reality check and a breath of fresh air."—SCOTT GERBER, author of Never Get a "Real" Job and founder of the Young Entrepreneur Council " Today more and more women are choosing entrepreneurship as a path to expressing their creativity and making money, but also as a way to manage their unique work+life 'fit.' The Big Enough Company lays out a clear road map for success as you define it, personally and professionally. Whether you are starting your business or taking it to the next level, this book will give you answers."—CALI WILLIAMS YOST, CEO of the Flex+Strategy Group/Work+Life Fit Inc. and author of Work+Life: Finding the Fit That's Right for You "T he Big Enough Company assembles an all-star cast of female entrepreneurs who will inspire you with the courage to build a company on your own terms. A must-read for anyone thinking about dipping their toes into start-up waters, as well as for seasoned entrepreneurs who want to grow their companies to the next level wisely and purposefully."—DONNA FENN, author of Upstarts: How GenY Entrepreneurs Are Rocking the World of Business " Reading this book is like spending the day with a hundred inspirational women in one room. The Big Enough Company is an invaluable resource that will have entrepreneurs at any level shouting 'Yes I can!'"—ELLEN DIAMANT, cofounder of Skip Hop, Inc.
or
Not Currently Available for Direct Purchase