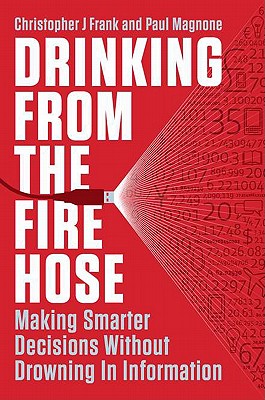 Drinking from the Fire Hose
Making Smarter Decisions Without Drowning in Information
Hardcover

* Individual store prices may vary.
Description
You're sitting in a windowless conference room. Twenty minutes into the meeting the presenter finally makes it to slide four of a thirty two- slide deck. At least you can read this one, unlike the others, which were crammed with numbers, graphs and charts. You look around, wondering if anyone else is following the presentation.
Just about everyone these days suffers from information overload the 24/7 explosion from our computers, smartphones, media, colleagues, and customers. Information is essential to making intelligent decisions, but more often than not, it simply overwhelms us. It's like trying to drink from a fire hose.
The question isn't how to stop all those e-mails, meetings, conference calls, and fat reports; that's impossible. The question is what to do with them. How do you find the truly essential nuggets of information and use them with confidence?
The solution proposed by Christopher Frank and Paul Magnone sounds deceptively simple: Learn how to ask the right questions at the right time. Whatever field you're in, asking smarter questions will expose you to new information, point you to connections between seemingly unrelated facts, and open new avenues of discussion with your colleagues.
The authors explain the seven questions that can help you bring a big- picture perspective to problems that often leave others buried in irrelevant details. And they show through real-life case studies- including Trader Joe's, Starbucks, Kodak, Microsoft, iRobot, and IBM-how their method can have a dramatic impact. It really is possible to convert the fire hose of information into useful insights.
Consider a nonbusiness example: the 2010 Icelandic volcano eruption that sent a giant ash cloud toward Europe. Tens of thousands of flights were canceled and five million passengers stranded, leading to billions in economic losses. Europe's best scientists generated oceans of data and carefully modeled the cloud's dispersion pattern. But no one could answer the essential question: Was the concentration of volcanic ash in the air enough to damage a jet engine? Without that key answer, all the carefully gathered facts were useless to the decision makers.
Once you adopt the seven questions, you'll start having more productive brainstorming sessions. You'll answer critical questions faster and find unexpected solutions to important problems. And you'll get better at communicating to your colleagues with more clarity and focus, turning down the fire hose that other people have to cope with.
Praise For Drinking from the Fire Hose: Making Smarter Decisions Without Drowning in Information…
"Frank and Magnone have created an insightful and groundbreaking model that will likely be built upon for years to come. As data continues to grow exponentially, useful information remains elusive. The framework presented herein presents a methodology that is critical for separating the knowledge from the noise and then shows how to apply it to make more effective business decisions."
—John C. Rizzuto, vice president of research, Gartner
"Frank and Magnone have done us all a great service in providing seven profound questions that help us reorient our default obsession with data generation and analysis to starting with (and learning to love) data interpretation and meaning. Buy a copy for yourself—read it twice. Then buy a second copy for your boss."
—Ron Crossland, coauthor of The Leader's Voice and former vice chair, Tom Peters Company
"Frank and Magnone have written a remarkably accessible book that covers all of the core topics to get the most out of your data. Simple enough for MBA students to quickly grasp critical business skills and rich enough to be useful to seasoned managers and business leaders transforming their companies, with clear advice and practical examples." —Dev Mukherjee, senior vice president, Sears Holdings
"This is a provocative, practical, insightful, and timely book. In the new world of data flooding, data and information often exist before the business question is formed. Frank and Magnone cleverly propose a set of important questions one should ask in order to convert data and information into insights and actions."
—Professor Oded Netzer, Columbia Business School
"Too many business leaders are overwhelmed and drowning. If that sounds familiar, this book can be your life raft."
—Michael Heideman, executive partner, Accenture Japan
"Drinking from the Fire Hose cuts through the data babble and gives real-world lessons to help get to the core information that moves business in the right direction. This one will get dogeared for sure."
—DJ Edgerton, chief executive officer, Zemoga
Portfolio, 9781591844266, 256pp.
Publication Date: September 1, 2011
About the Author
Christopher Frank is a vice president at American Express, where he is responsible for advertising, brand, and business - to - business research. Prior to joining American Express, he spent ten years at Microsoft as a senior director in market research. He is a recipient of the Wall Street Journal Achievement Award.
Paul Magnone is a director of business development and alliances at Openet, a global telecommunications software and consulting firm. For twenty-one years, he was previously a senior executive at IBM, where he started and grew four consulting businesses. Both authors live outside New York City.

Visit www.firehosethebook.com.
or
Not Currently Available for Direct Purchase