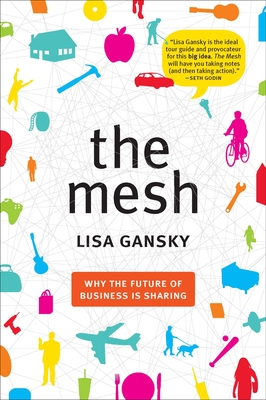 The Mesh (Paperback)
Why the Future of Business Is Sharing
Portfolio, 9781591844303, 272pp.
Publication Date: February 28, 2012
Other Editions of This Title:
Digital Audiobook (11/7/2010)
Compact Disc (11/8/2010)
Hardcover (9/23/2010)
* Individual store prices may vary.
Description
Traditional businesses follow a simple formula: create a product or service, sell it, collect money. But in the last few years a fundamentally different model has taken root-one in which consumers have more choices, more tools, more information, and more peer-to-peer power. Pioneering entrepreneur Lisa Gansky calls it the Mesh and reveals why it will dominate the future of business. Mesh companies use social media, wireless networks, and data crunched from every available source to provide people with goods and services at the exact moment they need them, without the burden and expense of owning them outright. Gansky reveals how there is real money to be made and trusted brands and strong communities to be built in helping your customers buy less but use more.
About the Author
Lisa Gansky has been a founder and CEO of multiple Internet companies, including GNN and Ofoto. She currently advises and invests in several social ventures, including New Resource Bank, Squidoo, Convio, TasteBook, MePlease, Slide, Instructables, and Greener World Media. She is a cofounder of Dos Margaritas, a conservation-focused social venture. She lives in Napa, California.
Praise For The Mesh: Why the Future of Business Is Sharing…
"Lisa Gansky sees around corners and describes a future that seems impossible...until you realize that it's imminent. The Mesh is a very big idea."
-Seth Godin

"Lisa Gansky makes a compelling case for the new competitive logic of sharing- and shows how to build not just a single company, but an entire business ecosystem, around this concept. If you want to understand the future, and maybe even help create it, read this book."
-Daniel H. Pink, author of Drive and A Whole New Mind

"This is a brilliant, important book. Lisa Gansky has put her finger on one of the most important trends that will shape our culture over the next decades. She puts social media in a broader economic, cultural, and environmental context."
-Tim O'Reilly, founder and CEO, O'Reilly Media

"This book offers a timely introduction to the reality and importance of Mesh companies-ones that provide products and services through sharing, via community participation and a culture of trust-in a way that really matters."
-Craig Newmark, founder of Craigslist

"Easy access to shared and personalized goods and services is going to be an integral and ubiquitous part of the new economy. Lisa has tapped into, explains, and explores this new phenomenon."
-Robin Chase, cofounder and founding CEO, Zipcar

"The Mesh clearly reveals the dramatic shift enabled by our connected world. And Gansky's practical experience makes it real. It's essential reading for anyone in business."
-John Donahoe, CEO, eBay

"Gansky's book is an important read for anyone who cares about the planet or is looking to make a ton of money."
-David Hornik, venture capitalist, August Capital
or
Not Currently Available for Direct Purchase