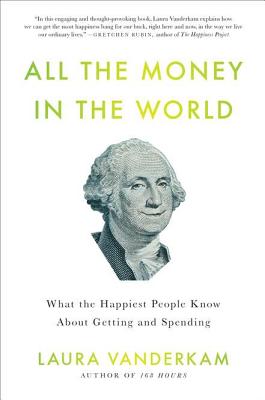 All the Money in the World
What the Happiest People Know about Getting and Spending
Hardcover

* Individual store prices may vary.
Other Editions of This Title:
Digital Audiobook (3/19/2012)
Paperback (5/28/2013)
Description
How happy would you be if you had all the money in the world? The universal lament about money is that there is never enough. We spend endless hours obsessing over our budgets and investments, trying to figure out ways to stretch every dollar. We try to follow the advice of money gurus and financial planners, then kick ourselves whenever we spend too much or save too little. For all of the stress and effort we put into every choice, why are most of us unhappy about our finances?
According to Laura Vanderkam, the key is to change your perspective. Instead of looking at money as a scarce resource, consider it a tool that you can use creatively to build a better life for yourself and the people you care about.
For instance, the average couple spends $5,000 on engagement and wedding rings, making these pricey purchases largely because everyone else does. But what if you decided to spend $300 on rings and apply the rest to future date nights, weekend getaways, and thinking-of-you bouquets over the next ten years? In he long run, what would bring more joy to your marriage? Likewise, will owning a home with a pristine lawn and a two-car garage the American Dream really make you more satisfied? Or are you saving up for this investment just because financial planners tell you it's worth it?

Vanderkam shows how each of us can figure out better ways to use what we have to build the lives we want. Drawing on the latest happiness research as well as the stories of dozens of real people, Vanderkam offers a contrarian approach that forces us to examine our own beliefs, goals, and values.

Among her advice:
Laugh at the Joneses: It's human nature to compare yourself to those around you, but you can create lifestyle hat rings you personal satisfaction without copying your neighbors.
Give yourself the best weekend ever: Studies show that experiences often bring more pleasure than material goods. With a little planning and creativity, you can give yourself a memorable getaway without leaving town or going broke.
Embrace the selfish joy of giving: Giving back not only helps you build karma, it also helps you build a community which is much more fulfilling than a tax deduction. All the Money in the World is a practical and inspiring guide that shows how money can buy happiness if we spend it wisely.
Praise For All the Money in the World: What the Happiest People Know about Getting and Spending…
"Money is one of the most complex, emotionally charged issues within the larger subject of happiness. In this engaging and thought-provoking book, Laura Vanderkam explains how we can get the most happiness bang for our buck--right here and now, in the way we live our ordinary lives."

--Gretchen Rubin, author of The Happiness Project

"All the Money in the World offers a total rethink on personal finance. Instead of prescribing the same-old hard-to-follow rules, Vanderkam encourages you to take your own values and goals into account when it comes to saving and spending. It is packed with creative ideas on how to get more, spend less, and most importantly, better use what you have. This book shows you that it's not dollar signs that are standing in the way of what you want in life."

--Adelaide Lancaster, author of The Big Enough Company

"Bravo! Laura writes another thoroughly-researched and thought-provoking book! Whether you're an extravagant spender, a frugal coupon-clipper, or anywhere in between, All the Money in the World will challenge your longheld financial beliefs and practices. This book is guaranteed to make you think long and hard about how to allocate your money to bring you true fulfillment."

--Crystal Paine, founder of MoneySavingMom.com

"With extensive research and rare insight, Laura Vanderkam reveals the financial mindset that can lead to lasting happiness."

--Zac Bissonnette, author of Debt-Free U
Portfolio, 9781591844570, 248pp.
Publication Date: March 1, 2012
About the Author
Laura Vanderkam is the author of 168 "Hours: You Have More Time Than You Think" and "Grindhopping: Build a Rewarding Career Without Paying Your Dues," which the New York Times hailed as loaded with smart observations. Her work has appeared in the Wall Street Journal, City Journal, the Huffington Post, USA Today, Scientific American, and Reader s Digest, among other publications. She lives in Philadelphia with her husband and their three children."
or
Not Currently Available for Direct Purchase