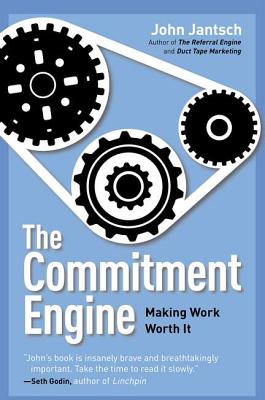 The Commitment Engine (Hardcover)
Making Work Worth It
Portfolio, 9781591844877, 256pp.
Publication Date: October 11, 2012
Other Editions of This Title:
Digital Audiobook (11/26/2012)
Compact Disc (1/15/2013)
* Individual store prices may vary.
Description
Why are some companies able to generate committed, long-term customers while others struggle to stay afloat? Why do the employees of some organizations fully dedicate themselves while others punch the clock without enthusiasm? By studying the ins and outs of companies that enjoy extraordinary loyalty from customers and employees, John Jantsch reveals the systematic path to discovering and generating genuine commitment. Jantsch's approach is built on three foundational planks, which he calls the clarity path, the culture patron, and the customer promise. He draws on his own experiences and shares true stories from businesses like Threadless, Evernote, and Warby Parker. His strategies include these: Build your company around a purpose. People commit to companies and stories that have a simple, straightforward purpose. Understand that culture equals brand. Build your business as a brand that employees and customers will support. Lead by telling great stories. You can't attract the right people or get them to commit without telling a story about why you do what you do. Treat your staff as your customer. A healthy customer community is the natural result of a healthy internal culture. Serve customers you respect. It's hard to have an authentic relationship with people you don't know, like, or trust. As Jantsch says, "Have you ever encountered a business where everything felt effortless? The experience was perfect, and the products, people, and brand worked together gracefully. You made an odd request; it was greeted with a smile. You went to try a new feature; it was right where it should be. You walked in, sat down, and felt right at home. . . . Businesses that run so smoothly as to seem self-managed aren't normal. In fact, they are terribly counterintuitive, but terribly simple as it turns out." As a follow-up to The Referral Engine, this is about more than just establishing leads- it's about building a fully alive business that attracts customers for life.
About the Author
John Jantsch is a marketing and digital technology consultant, an award-winning social media publisher, and the acclaimed author of Duct Tape Marketing and The Referral Engine. He blogs at the Ducttapemarketing.com and lives in Kansas City, Missouri.
Praise For The Commitment Engine: Making Work Worth It…
 "The Commitment Engine is a no-nonsense, hard-driving locomotive that can help turn dreamers into doers. Get on board!"
—Steven Pressfield, author of The War of Art and Turning Pro
"Wow! This book hit me deep. It dives into the deepest core of meaning—the side of business that other books are scared to touch. A powerful mix of why and how."
—Derek Sivers, founder, CD Baby, sivers.org
"John Jantsch does it again! I've recommended The Referral Engine over and over again, and The Commitment Engine is another great resource to grow your business. Step 1: Commit to read this book—soon."
—Chris Guillebeau, author of The $100 Startup
"Not often enough does a book come along and inject a breath of fresh air into the world of business. This is one of those books."
—Guy Kawasaki, bestselling author of Enchantment; former chief evangelist of Apple
"Jantsch's book is required reading for small-business owners. It will help you with lofty things like finding your higher purpose as well as the practical steps of making a commitment plan."
—Nancy Duarte, CEO, Duarte, Inc.; author of Slide:ology and Resonate
"As I read John's book I kept thinking of Steve Jobs's admonition that you must follow your heart first—and that if you're not passionate about what you're doing, you'll give up just when the going gets tough. John has extended this idea to the entire company and shows business leaders how to ignite this same kind of passion and commitment throughout an organization."
—Verne Harnish, author of The Greatest Business Decisions of All Time and Mastering the Rockefeller Habits
or
Not Currently Available for Direct Purchase