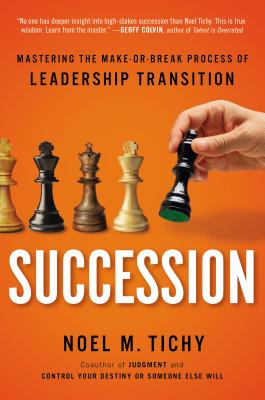 Succession (Hardcover)
Mastering the Make-Or-Break Process of Leadership Transition
Portfolio, 9781591844983, 448pp.
Publication Date: November 13, 2014
Description
Noel Tichy has been the trusted adviser on management succession to companies including Royal Dutch Shell, Nokia, Intel, Ford, and Mercedes Benz. Succession distills his decades of experience and provides a practical framework for building effective transition pipelines - for multi-billion dollar conglomerates, family businesses or anything in between. Through revealing case studies - like Hewlett Packard, IBM, Yahoo and P&G - Tichy examines why some companies fail and others succeed in training and sustaining the next generation of senior leaders. He highlights the all too common mistakes that can generate embarrassing headlines and threaten survival. And he puts leadership development and succession where they belong: at the top of every leader's agenda.
About the Author
Noel M. Tichy is the author of Judgement, Judgement on the Front Line, Control Your Destiny or Someone Else Will and many other business bestsellers. He is a professor at the University of Michigan's Ross School of Business and advises CEOs around the world.
Advertisement