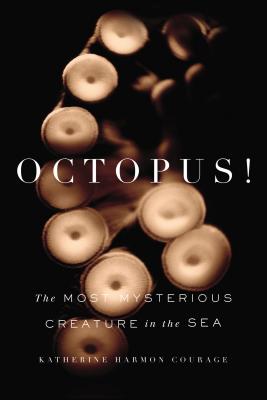 Octopus!
The Most Mysterious Creature in the Sea
Hardcover

* Individual store prices may vary.
Other Editions of This Title:
Paperback (11/25/2014)
Description
No one understands the octopus. With eight arms, three hearts, camouflaging skin, and a disarmingly sentient look behind its highly evolved eyes, how could it appear anything but utterly alien?

Octopuses have been captivating humans for as long as we have been catching them. Many cultures have octopus-centric creation myths, art, and, of course, cuisine. For all of our ancient fascination and millions of dollars' worth of modern research, however, we still have not been able to get a firm grasp on these enigmatic creatures.

Now, Katherine Harmon Courage, a veteran journalist and contributing editor for "Scientific American," dives into the mystifying underwater world of the octopus. She reports from around the globe of her adventures in Spain, Greece, and even Brooklyn, inviting us to experience the scientific discoveries and deep cultural ties that connect us to the octopus. You'll discover:
The oldest known fossilized octopus is estimated to have lived 296 million years ago--even before the first dinosaurs emerged.Government agencies are funding research labs around the world to re-create the octopus's naturally occurring camouflage techniques.About two thirds of an octopus's brain capacity is spread throughout its eight arms, meaning each one literally has a mind of its own.Octopuses have aced numerous intelligence tests, including opening childproof bottles, solving mazes, and even recognizing individual people.The octopus can change colors and textures within milliseconds to vanish against its background--yet we have no evidence that it can see in color.
Courage deftly interweaves personal narrative with interviews with leading octopus experts. The result is an entertaining yet scientifically grounded exploration of the octopus and its infinitely complex world.
Praise For Octopus!: The Most Mysterious Creature in the Sea…
"The octopus is like an alternate experiment in intelligent life—sophisticated, alluring, and wholly alien. In her fresh, deeply reported book, Katherine Harmon Courage makes this creature a little less mysterious, but no less marvelous."
—CARL ZIMMER, author of A Planet of Viruses and The Tangled Bank: An Introduction to Evolution

"What is it like to be an octopus? We need to imagine that our arms, all eight of them, can think and that our skin can see. Despite our obvious trouble understanding this invertebrate, no one doubts its intellect. A delightful book about a fascinating creature!" —FRANS DE WAAL, author of The Bonobo and the Atheist

"According to this book, octopuses can sprout temporary horns. Horns! Seriously, you need to read this book."
—WILL TRACY, editor in chief, The Onion
"A pleasant, chatty book on a fascinating subject."
—Kirkus

"[A] well-written, accessible book".
-Library Journal
"Katherine Harmon Courage's reportage on what the mollusk is teaching us about robotics, invertebrate intelligence and camouflage is excellent"
– Nature Journal
 
"In journalist Katherine Harmon Courage's intimate, expansive portrait of these mysterious creatures, she reveals their role in everything from military research to tasty cuisine."
– Psychology Today
 
"Katherine Harmon Courage's first book Octopus! is crammed with funny, weird, memorable stories about human interactions with cephalopods that start out strange and only get stranger."
– NBCNews.com

"I love Octopus! What creature is more beguiling, expressive and enigmatic? Katherine Harmon Courage's breezy, accessible book introduces us to a top predator, a shape-shifter, a sea mystery that no one can resist."
--SY MONTGOMERY, author of Journey of the Pink Dolphins: An Amazon Quest
Current, 9781591845270, 238pp.
Publication Date: October 31, 2013
About the Author
Katherine Harmon Courage is an award-winning freelance writer and contributing editor for "Scientific American." Her work covers health, biology, food, the environment and general interest stories and has appeared in books, magazines, newspapers and web sites, including "Gourmet, Nature" and "Scientific American." Read more on her website, www.katherineharmon.com and follow her on Twitter at www.twitter.com/katherineharmon.
or
Not Currently Available for Direct Purchase