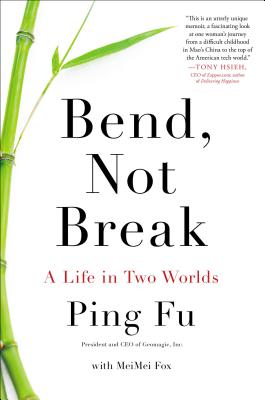 Bend, Not Break (Hardcover)
A Life in Two Worlds
Portfolio, 9781591845522, 288pp.
Publication Date: December 31, 2012
Other Editions of This Title:
Digital Audiobook (12/30/2012)
Paperback (11/26/2013)
* Individual store prices may vary.
Description
Bamboo is flexible, bending with the wind but never breaking, capable of adapting to any circumstance. It suggests resilience, meaning that we have the ability to bounce back even from the most difficult times. . . . Your ability to thrive depends, in the end, on your attitude to your life circumstances. Take everything in stride with grace, putting forth energy when it is needed, yet always staying calm inwardly.
Ping Fu's Shanghai Papa
Ping Fu knows what it's like to be a child soldier, a factory worker, and a political prisoner. To be beaten and raped for the crime of being born into a well-educated family. To be deported with barely enough money for a plane ticket to a bewildering new land. To start all over, without family or friends, as a maid, waitress, and student.
Ping Fu also knows what it's like to be a pioneering software programmer, an innovator, a CEO, and "Inc." magazine's Entrepreneur of the Year. To be a friend and mentor to some of the best-known names in technology. To build some of the coolest new products in the world. To give speeches that inspire huge crowds. To meet and advise the president of the United States.
It sounds too unbelievable for fiction, but this is the true story of a life in two worlds.
Born on the eve of China's Cultural Revolution, Ping was separated from her family at the age of eight. She grew up fighting hunger and humiliation and shielding her younger sister from the teenagers in Mao's Red Guard. At twenty-five, she found her way to the United States; her only resources were $80 in traveler's checks and three phrases of English: thank you, hello, and help.
Yet Ping persevered, and the hard-won lessons of her childhood guided her to success in her new homeland. Aided by her well-honed survival instincts, a few good friends, and the kindness of strangers, she grew into someone she never thought she d be a strong, independent, entrepreneurial leader. A love of problem solving led her to computer science, and Ping became part of the team that created NCSA Mosaic, which became Netscape, the Web browser that forever changed how we access information. She then started a company, Geomagic, that has literally reshaped the world, from personalizing prosthetic limbs to repairing NASA spaceships.
"Bend, Not Break "depicts a journey from imprisonment to freedom, and from the dogmatic anticapitalism of Mao's China to the high-stakes, take-no-prisoners world of technology start-ups in the United States. It is a tribute to one woman's courage in the face of cruelty and a valuable lesson on the enduring power of resilience.
About the Author
Ping Fu is the founder and CEO of Geomagic, a 3D digital reality solution company. She earned an M.S. in computer science at the University of Illinois and worked at the National Center for Supercomputing Applications and AT&T Bell Labs. She is a member of President Obama s National Council on Innovation and Entrepreneurship and a board member of Long Now Foundation. She lives in Chapel Hill, North Carolina.

MeiMei Fox is an author and book editor who also blogs regularly for the Huffington Post."
Praise For Bend, Not Break: A Life in Two Worlds…
"She tells her story with intelligence, verve and a candor that is often heart-rending....Her life story is moving and inspiring. Like the people who gave her a helping hand, she is generous to share it with us."
—The Wall Street Journal

"In this outstanding testament to the resilience of the human spirit, Ping takes readers on a journey both heartbreaking and inspiring . . . Ping's eloquent prose and remarkable attitude shine through in every word."
—PUBLISHERS WEEKLY (starred review)
 
"An inspiring story . . . the book reflects the tone of its author: clear, honest and unassuming."
—KIRKUS REVIEWS
 
 "This well-written tale of courage, compassion, and undaunted curiosity reveals the life of a genuine hero who remains committed to making the world a better place."
—BOOKLIST (starred review)
 
"This is an utterly unique memoir, a fascinating look at one woman's journey from a difficult childhood in Mao's China to the top of the American tech world."
—TONY HSIEH, CEO of Zappos.com; author of Delivering Happiness
 
"Do not read this book if you reject kindness, humility, and ingenuity. With staggering authenticity and zero cliché, Ping's story will shock you to your core. Your notion of human capacity will be redefined. It's Rocky, My Fair Lady, The Sound of Music, To Kill a Mockingbird, and Gone With the Wind—all in one."
—SALLY ROSENTHAL, executive producer of the documentary Between the Folds
 
"There are few people in our world who embody optimism like Ping Fu. She shows us how the human spirit can endure amazing hardship to find happiness, joy, and astounding success."
—SIMON SINEK, author of Start with Why
 
"I could not put this book down. From surviving the insanity of China's Cultural Revolution to the cutthroat antics of hi-tech venture capitalism, from low-life outcast to billionaire dealer—it's amazing to believe this all happened in one person's life. The lessons Ping Fu has so artfully accumulated are inspiring, heartening, educating, and entertaining."
—KEVIN KELLY, Senior Maverick, Wired; author of What Technology Wants
 
"Resilience is the most essential element of life and business today, and there is no more shining role model for resilience (and grace and humility and a bunch of other qualities) than Ping Fu. The story of how she fled China under precarious circumstances, made a new life in the United States, and built a vibrant company should be required reading."
—CHIP CONLEY, founder of Joie de Vivre Hospitality; author of Peak and Emotional Equations
Coverage from NPR
or
Not Currently Available for Direct Purchase