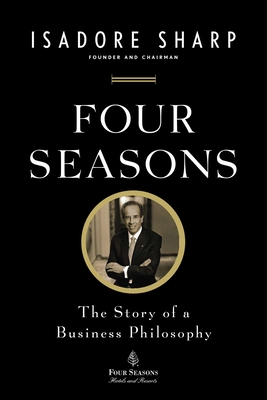 Four Seasons
The Story of a Business Philosophy
Paperback

* Individual store prices may vary.
Other Editions of This Title:
Paperback (9/1/2009)
Hardcover (4/30/2009)
Description
How did a child of immigrants, starting with no background in the hotel business, create the world's most admired and successful hotel brand? And how has Four Seasons grown so dramatically, over nearly half a century, without losing its focus on exceptional quality and unparalleled service?
Isadore Sharp answers these questions in his inspiring memoir. He started out in Toronto, the son of a modest builder from Poland, but ambition and fate rapidly took him beyond his father's three-man construction business.
Sharp learned the hotel business by trial and error. His breakthrough was a vision for a new kind of hotel, featuring superior design, top-quality amenities, and, above all, a deep commitment to service. Today, Four Seasons is widely recognized as the world leader in comfort and luxury—in fact, it sets the standard by which every luxury hotel is measured.
Praise For Four Seasons: The Story of a Business Philosophy…
"There's something different about a Four Seasons hotel. It's like gravity doesn't have the same effect there—the weight of the world lifts from your shoulders as soon as you walk in the door. I've often wondered how they do it. Now I know. It's an inspiring story."
—Morgan Freeman

"I have a great deal of respect for Issy Sharp and Four Seasons. I stay at their hotels all the time. This book is a terrific read by one of the smartest men in any business."
—Larry King

"Full disclosure: I am a rock-solid Four Seasons apostle. And now I know exactly why: perhaps to a more successful degree than any other mogul, Isadore Sharp has animated and applied the Golden Rule as business principle. This book will no doubt become a mandatory manual for hospitality professionals everywhere; but leaders of any business that has employees and competitors would be seriously remiss to miss out on Sharp's lovingly written memoir chronicling how he built the world's most innovative and beloved collection of luxury hotels. How uplifting it is to see how a philosophy built on so much common sense so directly leads to such uncommon success!"
—Danny Meyer, CEO of Union Square Hospitality Group and author of Setting the Table

"Regardless of your business, regardless of your pricepoint, Four Seasons offers invaluable lessons for us all."
—Tom Peters, author of In Search of Excellence

"Four Seasons truly sets the gold standard for excellence. He is an amazing guy!"
—Donald Trump

"The gripping yet breezily-told story of the man who transformed the hotel business, hospitality, and, in many ways, business itself."
—Don Tapscott, bestselling author of Grown Up Digital and Wikinomics

"This isn't just another 'rags to riches' story but a story about a leader who embodies three essential qualities of exemplary leadership---trust, integrity and optimism--- how he leveraged those values to create quality at the Four Seasons, and how just about every business that cares about excellence can do the same."
—Warren Bennis, Distinguished Professor of Business, University of Southern California and author of Judgment and Transparency

"Brilliant, incisive and honest. A story of engagement, imagination, ambition and charm. Four Seasons defines luxury and comfort."
—Michael Silverstein, author of Trading Up and Treasure Hunt

"An entertaining and educational peek inside the wonderful world Issy Sharp has created at Four Seasons. It is a must read for anyone who aspires to excellence and meaning in their life."
—Roger Martin, Dean, Rotman School of Management, University of Toronto

"No one—in our generation—has established a global brand name so totally identified with unquestioned quality as Issy Sharp."
—Peter Munk, Founder & Chairman, Barrick Gold Corporation

"Issy Sharp is one of Canada's great business success stories – success that's been achieved on a global scale and recognized throughout the world. He's the living example of what a business leader can and should be."
—Rick Waugh, President & CEO, Scotiabank

"With humility, humour, intelligence, innovation and ambition, Issy Sharp dared to take on the biggest by being the best. Today, his legacy is clearly not just a global chain of fine hotels with an impeccable brand, but a pioneering approach to business that always puts people first."
—Gordon M. Nixon, President & CEO, RBC

"For my money, Isadore Sharp is one of the smartest entrepreneurs Canada's produced."
—Seymour Schulich, author of Get Smarter

"A consummate hotelier, Isadore Sharp is in the pantheon of entrepreneurs who reinvented innkeeping, with Cesar Ritz, Conrad Hilton and Kemmons Wilson. Four Seasons: The Story of a Business Philosophy reveals how Sharp re-conceived the hotel as a discreet oasis of small- scale serenity and assiduous service to guests."
—David Olive, author of No Guts, No Glory

"Any time I'm travelling, I'm always proud to point out that Four Seasons, one of the premier hotel chains in the world, was founded & developed by Canadian Issy Sharp. It's a great credit to Canada."
—Jim Pattison, Chairman & CEO, The Jim Pattison Group

"Four Seasons hotels are a reflection of Issy Sharp; they are a multinational model of first-class service. A brilliant example of true success, this is the story of a great business leader and his iconic company – as well as a chronicle of perseverance and self-confidence in adversity."
—Dr. Sherry Cooper, Executive Vice-President, BMO Financial Group
Portfolio, 9781591845645, 320pp.
Publication Date: November 6, 2012
About the Author
Isadore Sharp is the founder, chairman, and CEO of Four Seasons Hotels, Inc. He opened the first Four Seasons in Toronto in 1961, and the company now operates eighty-two luxury hotels and resorts around the world, with more than forty additional properties under development. He and his wife, Rosalie, are prominent philanthropists. They divide their time between Toronto and Palm Springs, California.