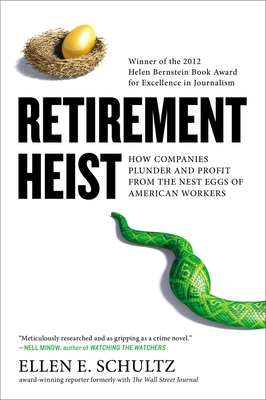 Retirement Heist
How Companies Plunder and Profit from the Nest Eggs of American Workers
Paperback

* Individual store prices may vary.
Other Editions of This Title:
Audio Cassette (12/1/2011)
Hardcover (9/15/2011)
MP3 CD (12/1/2011)
Compact Disc (12/1/2011)
Compact Disc (12/1/2011)
Description
Winner of the 2012 Helen Bernstein Book Award for Excellence in Journalism
Hundreds of companies have slashed pensions and health coverage for millions of retirees, claiming that a "perfect storm" of stock market losses, aging workers, and spiraling costs have forced them to take drastic measures.
But this so-called retirement crisis is no accident. Ellen E. Schultz, an award-winning investigative reporter formerly of The Wall Street Journal, reveals how large employers and the retirement industry have all played a huge and hidden role in the death spiral of American pensions and benefits.

A little over a decade ago, pension plans were fat. But companies used slick accounting and dubious loopholes to turn their pension plans into piggy banks, tax shelters, and profit centers. As pensions weakened, companies slashed benefits for workers while doling out gargantuan pensions to their top executives.
Drawing on original analysis of company data, government filings, and confidential memos, Schultz uncovers decades of widespread deception during which employers exaggerated their retiree burdens while tricking employees, misleading shareholders, and lobbying for taxpayer handouts.
Praise For Retirement Heist: How Companies Plunder and Profit from the Nest Eggs of American Workers…
"A blistering examination of corporate greed and avarice. Essential reading for anyone who works for a living."
—Kirkus
"A fascinating, troubling exposé and a sobering call to arms"
—Publishers Weekly
"Retirement Heist is a concise and alarming look at how—in the span of a generation—the 1 percent has looted the futures of the 99 percent."
—Kelly Johnson, The Washington Post
"Ms. Schultz herds all her journalistic cattle into a single corral, laying out by what any measure is a damning indictment of the broken pension promises too many American corporations have made to their workers . . . This book should be required reading."
—Bryan Burrough, The New York Times
"I've thought a lot about this financial crisis and I did not think there was another piece of information I could learn that could still make me angry…. Thank you."
—Jon Stewart, The Daily Show
"Journalist Ellen Schultz has been writing about such shameful behavior for a long time, mostly in The Wall Street Journal. Now she has pulled together the copious, irrefutable evidence between the covers of a book. It is shocking, and demoralizing. … In most cases documented by Schultz, the perpetrators have escaped widespread blame — except in her investigative pieces and now in this book."
—Steve Weinberg, USA Today
''Meticulously researched and as gripping as a crime novel, this is essential reading for anyone who has, had, or hopes to have a job.''
—Nell Minow, cofounder of The Corporate Library and author of Watching the Watchers: Corporate Governance for the 21st Century
''Americans have long been burdened by the overwhelming challenge of saving for retirement, as tax deductions for retirement savings favor the highest income earners and pension coverage erodes. But as an economist investigating the retirement crises I was shocked at Ellen Schultz's exposure of outright lies, manipulations, and pure greed of the employers trusted with our retirement funds.''
—Teresa Ghilarducci, director of the Schwartz Center for Economic Policy Analysis and author of When I'm Sixty-Four: The Plot against Pensions and the Plan to Save Them
''Retirement Heist uncovers one of the most significant threats to the American worker of our time. Ellen Schultz's reporting is expansive, smart, and will have you shouting for someone to be held accountable. Anybody who works and is worried about their future should read this book.''
—Lewis Maltby, president of the National Workrights Institute and author of Can They Do That? Retaking Our Fundamental Rights in the Workplace
"Ellen Schultz has been bravely uncovering crimes of the corporate state since well before it was en vogue. Retirement Heist is like an acclaimed artist's most profound masterpiece—or, more accurately, a horror auteur's most frightening film of all."
—David Sirota, syndicated columnist, radio host, and bestselling author of The Uprising and Back to Our Future
''The retirement security of millions of Americans hasn't been lost to the recession or the demographics of an aging workforce, it's been stolen-by corporate executives and their consultants, lobbyists, accountants, and lawyers. Retirement Heist is an important book for workers and policymakers that documents how corporate profits and executives' salaries have been inflated at the expense of the middle class.''
—Jay Feinman, distinguished professor, Rutgers University School of Law, Camden and author of Delay, Deny, Defend: Why Insurance Companies Don't Pay Claims and What You Can Do about It
Portfolio, 9781591845652, 256pp.
Publication Date: October 30, 2012
About the Author
Ellen E. Schultz
is an investigative reporter who has covered the so-called retirement crisis for more than a decade. Her reporting has led to Congressional hearings, proposed legislation, and investigations by the Treasury and the GAO. Schultz, a former staff reporter for
The Wall Street Journal
, has won dozens of journalism awards for economics, financial, and investigative reporting, including three Polk Awards, two Loeb awards, and a National Press Club award. In 2003, Schultz was part of a team of
Wall Street Journal
reporters awarded the Pulitzer Prize, for articles on corporate scandals. She lives in New York City.

Visit www.RetirementHeist.com
or
Not Currently Available for Direct Purchase