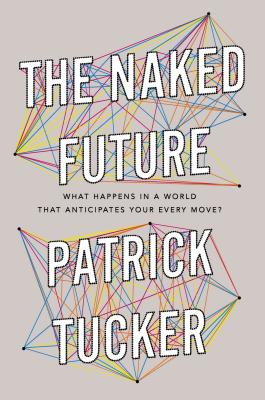 The Naked Future (Hardcover)
What Happens in a World That Anticipates Your Every Move?
Current, 9781591845867, 268pp.
Publication Date: March 6, 2014
* Individual store prices may vary.
or
Not Currently Available for Direct Purchase
Description
Where I saw a thrilling and historic transformation in the world's oldest idea the future other people saw only Target, Facebook, Google, and the government using their data to surveil, track, and trick them . . . But in fact, your data is your best defense against coercive marketing and intrusive government practices. Your data is nothing less than a superpower waiting tobe harnessed. FROM THE INTRODUCTION
In the past, the future was opaque the territory of fortune-tellers, gurus, and dubious local TV weathermen. But thanks to recent advances in computing and the reams of data we create through smartphone and Internet use, prediction models for individual behavior grow smarter and more sophisticated by the day. Whom you should marry, whether you ll commit a crime or fall victim to one, if you ll contract a specific strain of flu even your precise location at any given moment years into the future are becoming easily accessible facts. The naked future is upon us, and the implications are staggering.

Patrick Tucker draws on stories from health care to urban planning to online dating to reveal the shape of a future that's ever more certain. In these pages you ll meet scientists and inventors who can predict your behavior based on your friends Twitter updates. They are also hacking the New York City sewer system to predict environmental conditions, anticipating how much the weather a year from now will cost an individual farmer, figuring out the time of day you re most likely to slip back into a bad habit, and guessing how well you ll do on a test before you take it. You ll learn how social networks like Facebook are using your data to turn you into an advertisement and why the winning formula for a blockbuster movie is more predictable than ever.
The rise of big data and predictive analytics means that governments and corporations are becoming much more effective at accomplishing their goals and at much less cost. Tucker knows that's not always a good thing. But he also shows how we ve gained tremendous benefits that we have yet to fully realize.

Thanks to the increased power of predictive science, we ll be better able to stay healthy, invest our savings more wisely, learn faster and more efficiently, buy a house in the right neighborhood at the right time, avoid crime, thwart terrorists, and mitigate the consequences of natural disasters. What happens in a future that anticipates your every move? The surprising answer: we ll live better as a result.
About the Author
PATRICK TUCKERis the deputy editor of "The Futurist" magazine, as well as director of communications for the World Future Society. His writing has appeared in the "Sun, Slate, MIT Technology Review, The Wilson Quarterly, Johns Hopkins Magazine, Encyclopedia Britannica "online, and "The Utne Reader," among other outlets. Tucker won the 2006 Barry Hannah Prize in short fiction and the 2006 Eugene Walter Award for the Novel. He lives in Baltimore, Maryland."
Praise For The Naked Future: What Happens in a World That Anticipates Your Every Move?…
"Contemplating the future—the very, very near future—of Big Data is by turns terrifying and exhilarating. Patrick Tucker captures both extremes and everything in between in this thorough yet thoroughly digestible book on the ubiquity of data gathering and the unraveling of personal privacy. This is a book powered by big ideas and enriched by expert storytelling."
—DANIEL PINK, author of To Sell Is Human and Drive
"Any American who doesn't understand what big data has to do with everyday existence should read this book today. What's at stake in The Naked Future is nothing short of free will itself."
—DOUGLAS RUSHKOFF, author of Present Shock: When Everything Happens Now
"The Naked Future unveils a plausible future that is at once thought-provoking and rather unsettling. It seems inescapable."
—VINT CERF, Internet pioneer
"Patrick Tucker's thought-provoking, eye-opening, and highly entertaining book The Naked Future skillfully illustrates how the intelligent analysis of big data is allowing us to see into the future with ever-increasing precision."
—RAY KURZWEIL, author of How to Create a Mind
"A fantastic romp through the data-drenched world that is just around the corner. Patrick Tucker spots the trends shaping society and business, and tells the stories with verve and insight. The Naked Future exposes what we need to know about tomorrow's world—to not be caught with our pants down!"
—KENNETH CUKIER, coauthor of Big Data: A Revolution That Will Transform How We Live, Work, and Think
Advertisement