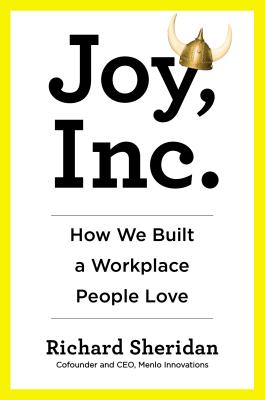 Joy, Inc. (Hardcover)
How We Built a Workplace People Love
Portfolio, 9781591845874, 288pp.
Publication Date: December 26, 2013
* Individual store prices may vary.
Description
The moment you walk into Menlo Innovations, you can sense the atmosphere full of energy, playfulness, enthusiasm, and maybe even . . . joy. As a package-delivery person once remarked, "I don't know what you do, but whatever it is, I want to work here."

Every year, thousands of visitors come from around the world to visit Menlo Innovations, a small software company in Ann Arbor, Michigan. They make the trek not to learn about technology but to witness a radically different approach to company culture.

CEO and "Chief Storyteller" Rich Sheridan removed the fear and ambiguity that typically make a workplace miserable. His own experience in the software industry taught him that, for many, work was marked by long hours and mismanaged projects with low-quality results. There had to be a better way.

With joy as the explicit goal, Sheridan and his team changed everything about how the company was run. They established a shared belief system that supports working in pairs and embraces making mistakes, all while fostering dignity for the team.

The results blew away all expectations. Menlo has won numerous growth awards and was named an Inc. magazine "audacious small company." It has tripled its physical office three times and produced products that dominate markets for its clients.

Joy, Inc. offers an inside look at how Sheridan and Menlo created a joyful culture, and shows how any organization can follow their methods for a more passionate team and sustainable, profitable results. Sheridan also shows how to run smarter meetings and build cultural training into your hiring process.

Joy, Inc. offers an inspirational blueprint for readers in any field who want a committed, energizing atmosphere at work—leading to sustainable business results.
About the Author
RICHARD SHERIDAN is CEO and cofounder of Menlo Innovations, which has won the Alfred P. Sloan Award for Business Excellence in Workplace Flexibility for six straight years and five revenue awards from Inc. magazine. He frequently speaks at business conferences and to major corporations such as Mercedes-Benz, Nike, and 3M.  He lives in Ann Arbor, Michigan.
Praise For Joy, Inc.: How We Built a Workplace People Love…
"
Joy, Inc.
is a marvelous title, sure. But this masterpiece delivers and delivers and delivers. I beg you to keep taking deep breaths and imagining the world that Richard Sheridan reveals. Then . . . give it the best shot you can. I do truly beg you."
—Tom Peters, coauthor, In Search of Excellence

"Redefining management, the way Richard Sheridan did at Menlo Innovations, is a big task. But with the direction and inspiration he provides in Joy, Inc., you can tap into your team's trust, enthusiasm, and energy to successfully build your own stronger organization."
—Captain D. Michael Abrashoff, author, New York Times bestselling It's Your Ship

"Sheridan and his colleagues at Menlo Innovations have created one of the world's most inspiring—and productive—workplaces, and he reveals its secrets in this highly readable and thought-provoking book. Joy Inc. is about a way of organizing work so logical, so effective, and so rewarding that you have to wonder why everyone doesn't do it. Maybe now they will."
—Bo Burlingham, author, Small Giants, and editor at large, Inc. magazine

"Readers who have experienced lean or agile software development may recognize the tools Sheridan used to create a totally different organizational model. But make no mistake—bringing them to life to create a joyful workplace is an act of leadership and teamwork, not implementation. Joy, Inc. shows us how the right intentional culture, combined with the right systems of management, can bring joy and exceptional business success."
—Jeffrey Liker, author, The Toyota Way

"Joy, Inc. is the next step in the evolution of leadership and organization theory. And how appropriate that it comes from Menlo Innovations, the namesake of Edison's 'invention lab.' Sheridan offers not only a manifesto for elevating the soul of organizations but a trail guide from a skilled explorer to help us follow his lead."
—Joseph Grenny, coauthor, Influencer

"An amazing book about a stunning idea. Can you deliberately create a corporate culture that challenges every conventional wisdom on how a workplace should and must operate—while simultaneously skyrocketing performance? Sheridan says yes, and outlines how he and his team he did it. It's a riveting story that left me deeply inspired."
—Frans Johansson, author, The Click Moment, and CEO, The Medici Group