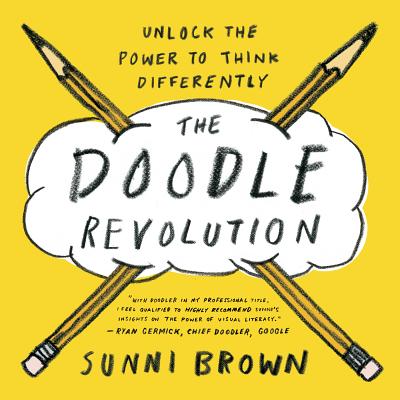 The Doodle Revolution (Hardcover)
Unlock the Power to Think Differently
Portfolio, 9781591845881, 256pp.
Publication Date: January 9, 2014
Other Editions of This Title:
Paperback (5/26/2015)
* Individual store prices may vary.
Description
A fearless guide to awakening your mind using simple visual language. What do Einstein, Edison, Richard Feynman, Henry Ford, and JFK have in common? Like virtually all heavy-hitting thinkers, they looked beyond just words and numbers to get intellectual and creative insights. They actively applied a deceptively simple tool to think both smarter and faster: the doodle. And so can the rest of us-zero artistic talent required. Visual thinking expert Sunni Brown has created The Doodle Revolution as a kick-starter guide for igniting and applying simple visual language to any challenge. The instinctive and universal act of doodling need only be unleashed in order to innovate, solve problems, and elevate cognitive performance instantly.
About the Author
Sunni Brown was named one of the 100 Most Creative People in Business and one of the 10 Most Creative People on Twitter by Fast Company. She is a consultant, an international speaker, the coauthor of Gamestorming, and the leader of a global campaign for visual literacy. Her TED Talk on doodling has drawn more than a million views on TED.com. She lives in Austin, Texas, with her husband, Mr. Pepper Pants, and her dog, Mr. Simon.
Praise For The Doodle Revolution: Unlock the Power to Think Differently…
"In 
The Doodle Revolution
, Sunni Brown opens our minds to the idea that we naturally possess a simple, overlooked skill of great value: the ability to doodle. It's a rare gift to be taught such a rewarding truth in so joyful and light-hearted a manner. Sunni is a creative light and an inspiring mentor."
—
Chris Anderson
, TED Curator 
"Why do we insist on representing our world using 26 letters rather than an infinity of pictures? Sunni Brown shows us how to doodle our way to better thinking. Her book will have you drawing insights on the page
,
not just in the margins."
—
Dan Heath
, co-author of 
Decisive, Made to Stick, 
and 
Switch
"Contrary to popular opinion, doodling is a serious endeavor. As Brown shows in this smart and accessible book, applying visual language allows you to see new dimensions of a problem -- and at times, new aspects of yourself.  So get out your writing sticks and prepare to doodle!"
—
Daniel H. Pink
, author of
To Sell is Human
and
Drive
"The future is filled with an ever-growing density of information, so visual literacy—the ability to think and communicate using visual language—will become an essential skill. Thankfully,
The Doodle Revolution
gives all of us the ability to take the leap."
—
Jane McGonigal
, author of
Reality Is Broken
"Doodles come straight from the Unconscious. That's partly why they work. Sunni did a beautiful job of shining a light on visual language."
—
Steven Pressfield
, author of
The War of Art
and
The Legend of Bagger Vance
"There's a reason why so many innovative companies use Sunni's techniques for visual literacy, and it's not just because they want to have fun. These methods offer consistently better thinking, and in the process deliver happiness as well." 
—Tony Hsieh, Zappos.com CEO and author of Delivering Happiness
"Doodling is not just a nervous habit. It nudges the mind to discover different angles and hidden connections.  In the long run—and especially around new media—expressing oneself in raw text might not stand up in the face of artistic, spatial, and emotive text. Sunni has found a way to validate and systematize a new language that enables thinking on a whole new level."
—
Robert McKee
, author of
Story
"Both practical and inspiring, Brown's book reminds readers of the revolutionary power o simplicity in an information-overloaded world. A gold mine for readers interested in learning more about the benefits of increased visual literacy."
—
Kirkus
"Brown's defense of the doodle is convincing . . . this creative, fun book will definitely help you get your doodle on."
-
SUCCESS magazine
or
Not Currently Available for Direct Purchase