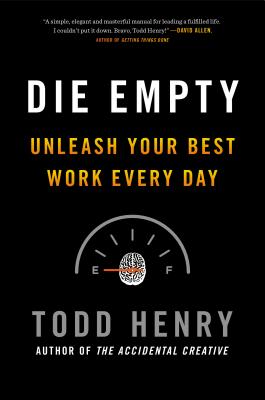 Die Empty (Hardcover)
Unleash Your Best Work Every Day
Portfolio, 9781591845898, 230pp.
Publication Date: September 26, 2013
Other Editions of This Title:
Digital Audiobook (9/30/2013)
Compact Disc (10/1/2013)
Paperback (4/28/2015)
* Individual store prices may vary.
Description
Most of us live with the stubborn idea that we'll always have tomorrow. But sooner or later all of our tomorrows will run out. Each day that you postpone the hard work and succumb to the clutter that chokes creativity, discipline, and innovation will result in a net deficit to the world, to your company, and to yourself. Die Empty is a tool for individuals and companies that aren't willing to put off their best work. Todd Henry explains the forces that keep people in stagnation and introduces a three-part process for tapping into your passion: Excavate: Find the bedrock of your work to discover what drives you. Cultivate: Learn how to develop the curiosity, humility, and persistence that save you from getting stuck in ruts. Resonate: Learn how your unique brilliance can inspire others. Henry shows how to find and sustain your passion and curiosity, even in tough times.
About the Author
Todd Henry is the founder and CEO of Accidental Creative, a consultancy that helps organizations generate brilliant ideas. In 2006 he started The Accidental Creative, one of the top business podcasts. Henry is a sought-after speaker, consultant, and coach.
Praise For Die Empty: Unleash Your Best Work Every Day…
"In a field crowded with rivals, Todd Henry stands out as a unique and original voice. I love Todd's outstanding thoughts on how each of us possesses a career-in-potential, and it's our challenge to bring it forth so that we can 'die empty.' If you can read this book and not be inspired, you need a 100 percent full-body-and-soul transplant."
—STEVEN PRESSFIELD, AUTHOR OF THE WAR OF ART AND TURNING PRO
"Todd Henry says to create a life of meaning and impact you need to map, make, and mesh. You're probably doing one or two of those right now, but just imagine how interesting your work will get when you incorporate all three into your daily life. Todd gives you the tools and points the way."
—MICHAEL BUNGAY STANIER, SENIOR PARTNER AT BOX OF CRAYONS, AUTHOR OF DO MORE GREAT WORK
"Die Empty looks past simple slogans to highlight detailed strategies for building a meaningful life; a must-read for anyone interested in moving from inspiration to action." —CAL NEWPORT, AUTHOR OF SO GOOD THEY CAN'T IGNORE YOU
"In this powerful book, Todd reminds us that the world will not be changed by what we want to create, it will be changed by what we created. Life is short. Learn how to die empty." —PAMELA SLIM, AUTHOR OF ESCAPE FROM CUBICLE NATION
"No matter your role in your family, community, or business, Todd Henry will open your eyes to new ways to unlock your purpose and set you on the right path to pursue your personal mission. Die Empty will keep you on a true and steady course and help you reach your full potential every day."
—TIM SCHIGEL, FOUNDER AND CHAIRMAN, SHARETHIS, INC.
"You have a limited number of days on Earth. This book sends an urgent message: make them count!"
—CHRIS GUILLEBEAU, AUTHOR OF THE $100 STARTUP AND THE ART OF NON-CONFORMITY
"I can think of no better phrase to live your life by nor any better person to explain the message. Bravo."  —JULIEN SMITH, FOUNDER OF BREATHER.COM AND AUTHOR OF THE FLINCH
or
Not Currently Available for Direct Purchase