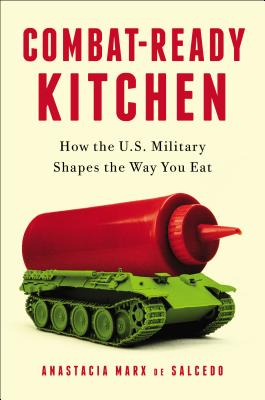 Combat-Ready Kitchen
How the U.S. Military Shapes the Way You Eat
Hardcover

* Individual store prices may vary.
Description
Americans eat more processed foods than anyone else in the world. We also spend more on military research. These two seemingly unrelated facts are inextricably linked. If you ever wondered how ready-to-eat foods infiltrated your kitchen, you'll love this entertaining romp through the secret military history of practically everything you buy at the supermarket.

In a nondescript Boston suburb, in a handful of low buildings buffered by trees and a lake, a group of men and women spend their days researching, testing, tasting, and producing the foods that form the bedrock of the American diet. If you stumbled into the facility, you might think the technicians dressed in lab coats and the shiny kitchen equipment belonged to one of the giant food conglomerates responsible for your favorite brand of frozen pizza or microwavable breakfast burritos. So you'd be surprised to learn that you've just entered the U.S. Army Natick Soldier Systems Center, ground zero for the processed food industry.

Ever since Napoleon, armies have sought better ways to preserve, store, and transport food for battle. As part of this quest, although most people don't realize it, the U.S. military spearheaded the invention of energy bars, restructured meat, extended-life bread, instant coffee, and much more. But there's been an insidious mission creep: because the military enlisted industry—huge corporations such as ADM, ConAgra, General Mills, Hershey, Hormel, Mars, Nabisco, Reynolds, Smithfield, Swift, Tyson, and Unilever—to help develop and manufacture food for soldiers on the front line, over the years combat rations, or the key technologies used in engineering them, have ended up dominating grocery store shelves and refrigerator cases. TV dinners, the cheese powder in snack foods, cling wrap . . . The list is almost endless.

Now food writer Anastacia Marx de Salcedo scrutinizes the world of processed food and its long relationship with the military—unveiling the twists, turns, successes, failures, and products that have found their way from the armed forces' and contractors' laboratories into our kitchens. In developing these rations, the army was looking for some of the very same qualities as we do in our hectic, fast-paced twenty-first-century lives: portability, ease of preparation, extended shelf life at room temperature, affordability, and appeal to even the least adventurous eaters. In other words, the military has us chowing down like special ops.

What is the effect of such a diet, eaten—as it is by soldiers and most consumers—day in and day out, year after year? We don't really know. We're the guinea pigs in a giant public health experiment, one in which science and technology, at the beck and call of the military, have taken over our kitchens.
Praise For Combat-Ready Kitchen: How the U.S. Military Shapes the Way You Eat…
"A well-researched effort that will undoubtedly add to general readers' knowledge about the food they consume on a daily basis."
-Kirkus Reviews

"Combat-Ready Kitchen reveals in abundant detail how military necessity has spawned food-technological invention and many of the processed foods that crowd our supermarket and kitchen shelves."
—HAROLD MCGEE, author of On Food & Cooking and Keys to Good Cooking

"A fascinating book that will make us reconsider the origins of modern industrial food. Who could have guessed that so many of our common conveniences were first developed for war? This book will make an enormous impact in the field of food history."
—KEN ALBALA, director of food studies, University of the Pacific

"This is an excellent book on an important subject that readers will find fascinating for its relevance to their everyday lives and health. It also makes an important contribution to military history with its analysis of field rations from antiquity to the present. With Combat-Ready Kitchen, which is well written in an enjoyable style and exhaustively researched, Marx de Salcedo has done the American public a great service in bringing this important subject to our attention. Highly recommended."
—RICHARD A. GABRIEL, historian; author of The Madness of Alexander the Great: And the Myth of Military Genius

"The book that makes us realize that the military is basically a R&D lab for what ends up in our kitchens."
—Bon Appétit, recommended reading for summer 2015

"[An] engaging, wide-ranging investigation"
—Discover Magazine, recommended reading for September 2015
 
"...An ambitious book: Marx de Salcedo weaves military history into a discussion of the food industry and modern health policy, all filtered through her own family's experiences."
—Military.com

"…A rollicking, yet encyclopedic, look at the Army's role in everything from industrialized meats to energy bars."
—Vox.com
 
"Meticulous… exhaustive… and fair-minded. Marx de Salcedo may be critical of how much highly processed food has entered our diets this way, but her narrative helps us understand just how it happened. If anything, she simply wants us to stop and consider the realities of our food supply."
—PRI The World

"[I]nsightful…"
—Mother Jones
 
"Ever wonder why you can buy frozen pizza that stays "fresh" for five-plus months? Thank the U.S. military, which has outsize influence on the contents of our modern-day grocery carts, writes Anastacia Marx de Salcedo." 
—Time

"We wouldn't eat the way we do, Anastacia Marx de Salcedo argues, if it weren't for the Army, and we shouldn't (she believes) eat the way we do… [S]he has a fascinating tale to tell—of technology and ingenuity—before arriving at her doubts…. The reader of Ms. Salcedo's chronicle… is likely to look at our daily fare with a... fresh sense of appreciation."
—The Wall Street Journal
Current, 9781591845973, 304pp.
Publication Date: August 4, 2015
About the Author
ANASTACIA MARX DE SALCEDO is a food writer whose work has appeared in Salon, Slate, the Boston Globe, and Gourmet magazine and on PBS and NPR blogs. She's worked as a public health consultant, news magazine publisher, and public policy researcher. She lives in Boston, MA. Visit AnastaciaMarxdeSalcedo.com.
or
Not Currently Available for Direct Purchase