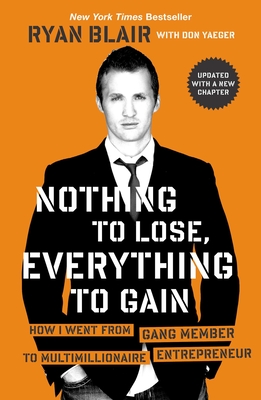 Nothing to Lose, Everything to Gain: How I Went from Gang Member to Multimillionaire Entrepreneur (Paperback)
How I Went from Gang Member to Multimillionaire Entrepreneur
Portfolio, 9781591845997, 233pp.
Publication Date: March 26, 2013
Description
Like many entrepreneurs, Ryan Blair had no formal business education. But he had great survival instincts, tenacity, and, above all, a "nothing to lose" mindset. His middle-class childhood ended abruptly when his abusive father succumbed to drug addiction and abandoned the family. Blair and his mother moved to a rough neighborhood, and soon he was in and out of juvenile detention, joining a gang just to survive. Then his mother fell in love with a successful entrepreneur who took Ryan under his wing. With his mentor's guidance, Blair started his first company, 24/7 Tech, at age twenty-one. He has since created and sold several companies for hundreds of millions of dollars. This is an inspirational guide full of powerful stories and lessons and a road map for entrepreneurial success.
About the Author
Ryan Blair is a self-made multimillionaire and serial entrepreneur. He established his first company, 24/7 Tech, when he was twenty-one years old and has since created and actively invested in multiple start-ups. As the CEO of ViSalus, Blair turned the company around during the 2009 recession and, in three years, took it from $600,000 in monthly sales to $600 million in annual sales.He lives in Detroit, with his son, Reagan. Visit www.NothingtoLose.com"
Praise For Nothing to Lose, Everything to Gain: How I Went from Gang Member to Multimillionaire Entrepreneur…
"Ryan Blair's story proves how success is a choice—and finding the right mentors can change your life and destiny. Devour this book and share it with someone young you love and mentor—today!"
—David Bach, #1 New York Times bestselling author of The Automatic Millionaire and founder of FinishRich.com
 
"Ryan is one of the most innovative and enthusiastic young men I've met. He is always one step ahead of others, which means there is much we all can learn from him."
—John Wooden, UCLA Hall of Fame head coach
 
"I can think of no better person to offer advice on how to handle a 'nothing to lose' moment than Ryan Blair. He has absolutely made the most of those times in his life. Anyone who is considering tough career decisions needs to grab hold of his book and these lessons."
—Dale Brown, LSU Hall of Fame head coach
 
"We all seek excuses to keep us from greatness. Ryan Blair takes your excuses and punches them in the mouth. This book grabbed me by my shirt collar, forced me into a chair, and wouldn't let me up until I saw how it ended."
—Chris Brogan, coauthor of Trust Agents and The Impact Equation
Advertisement