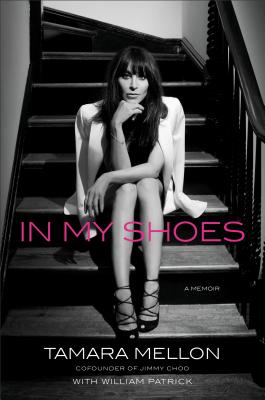 In My Shoes (Hardcover)
Portfolio, 9781591846161, 288pp.
Publication Date: October 1, 2013
Other Editions of This Title:
Digital Audiobook (9/30/2013)
Paperback (9/30/2014)
* Individual store prices may vary.
Description
When Tamara Mellon's father lent her the seed moneyto start a high-end shoe company, he cautioned her: Don t let the accountants run your business. Littledid he know. Over the next fifteen years, the strugglebetween financial and creative would become one ofthe central themes as Mellon's business savvy, creativeeye, and flair for design built Jimmy Choo into a premiername in the competitive fashion industry.

Over time, Mellon grew Jimmy Choo into a billion dollarbrand. She became the British prime minister strade envoy and was honored by the Queen with theOrder of the British Empire yet it's her personalglamour that keeps her an object of global media fascination.Vogue photographed her wedding. "Vanity Fair"covered her divorce and the criminal trial that followed.Harper's Bazaar toured her London town house and herNew York mansion, right down to the closets. And the"Wall Street Journal "hinted at the real red meat: the threeprivate equity deals, the relentless battle between thesuits and the creatives, and Mellon's triumph againsta brutally hostile takeover attempt.

But despite her eventual fame and fortune, Mellondidn t have an easy road to success. Her seeminglyglamorous beginnings in the mansions of London andBeverly Hills were marked by a tumultuous and brokenfamily life, battles with anxiety and depression, and astint in rehab. Determined not to end up unemployed, penniless, and living in her parents basement underthe control of her alcoholic mother, Mellon honed hernatural business sense and invested in what she knewbest fashion.

In creating the shoes that became a fixture on" Sexand the City "and red carpets around the world, Mellonrelied on her own impeccable sense of what the customerwanted because she was that customer. What shedidn t know at the time was that success would come ata high price after struggles with an obstinate businesspartner, a conniving first CEO, a turbulent marriage, anda mother who tried to steal her hard-earned wealth.

Now Mellon shares the whole larger-than-life story, with shocking details that have never been presentedbefore. From her troubled childhood to her time as ayoung editor at Vogue to her partnership with cobblerJimmy Choo to her very public relationships, Mellonoffers an honest and gripping account of the episodesthat have made her who she is today.

As Mellon readies herself for her next entrepreneurialventure, " In My Shoes" is a definitive book forfashion aficionados, aspiring entrepreneurs, and anyonewho loves a juicy true story about sex, drugs, money, power, high heels, and overcoming adversity.
About the Author
TAMARA MELLON, OBE, is thecofounder and the former CEO and chief creative officerof Jimmy Choo, which she led for fifteen years. Sinceselling her share of the company, she has focused oncreating a new eponymous lifestyle brand. She dividesher time between London and New York.

WILLIAM PATRICK has cowritten numerousmemoirs, including Sidney Poitier s number-one bestseller"The Measure of a Man."

Visit tamaramellon.com"
Praise For In My Shoes…
"When it comes to Tamara Mellon, you should never assume anything." —The Financial Times 

"The Shoe Queen." —Vogue
"A kind of Henry James heroine for the bling generation." —Vanity Fair
"A woman shaped by hardship and scandal." —The Cut
"Tamara is an incredible businesswoman." —Tory Burch as quoted by the New York Times
"The Jimmy Choo brand has gone on to infiltrate popular culture on a mass scale, becoming synonymous with a kind of feminine luxury lifestyle that Mellon herself—strong, smart, independent, and glamorously larger than life—has come to personify." —Interview Magazine
or
Not Currently Available for Direct Purchase